Tesla Option Traders Are Betting on a Quick Trip to $420
After Chief Executive Officer Elon Musk tweeted that he was considering taking the company private at that price at 12:48 p.m. New York Time on Tuesday, the cost of call options that expire on Aug. 10 and 17 with a strike price of $420 proceeded to spike by 460 percent and more than 1,000 percent, respectively, with trading volumes also soaring.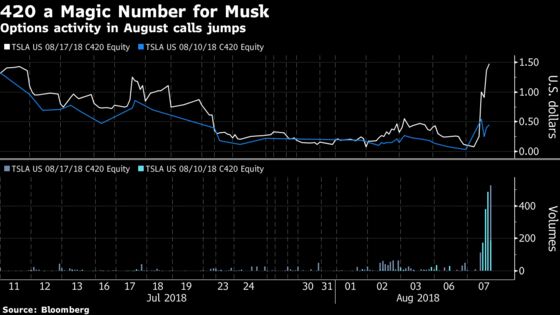 Shares of the electric vehicle maker rose 7.4 percent to $376.25 on Tuesday afternoon before being halted for news pending. Tesla is among the most heavily-shorted U.S. companies, which can lead to brisk surges in the stock when those betting against are forced to exit those positions.
The options give their holders the ability, but not the obligation, to buy the shares at the strike price prior to expiration. Buyers are essentially making a wager that will pay off if the stock is trading above that level, plus the cost of the option, before the contracts expire.
However, the options market isn't showing only bullishness on Tesla. There's also a creeping suspicion that the buyout price floated by Musk could serve as a ceiling for the stock. January 2019 options with a $500 strike price fell more than 15 percent in the aftermath of the tweet. In addition, the value of January 2020 calls with a strike price of $700 has been cut in half, with trading volume more than 32 times the 15-day average.
For more on Tesla's challenges, check out the Decrypted podcast: