Reliance Communications Bonds Drop to 2018 Low After Offer
(Bloomberg) -- Bonds that Reliance Communications Ltd. defaulted on last year slumped to a seven-month low on Tuesday, after the Indian mobile operator controlled by billionaire Anil Ambani offered to repay holders at a discount to the principal value.
The firm, which is set to meet with bondholders on Aug. 10, has been trying to close a sale of wireless assets to Reliance Jio Infocomm Ltd. that would raise money to help pay creditors.
Reliance Communications' 2020 dollar notes fell 2 cents on the dollar to 43 cents as of 6:00 p.m. in Hong Kong, the lowest since December, according to prices compiled by Bloomberg. The securities slid 5.3 cents on Monday, the biggest decline since May.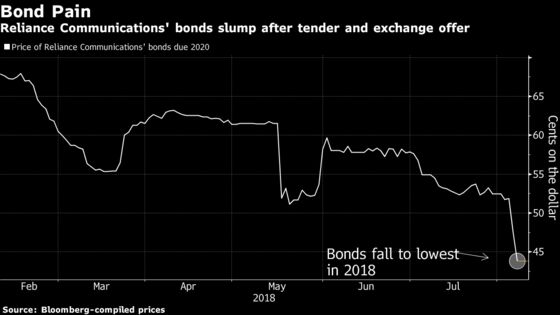 The company said that holders of the $300 million bonds can tender their existing notes or exchange them for $45 million new zero-coupon notes due 2023 to be issued by unit Global Cloud Xchange Ltd. If bondholders choose to tender their securities, Reliance Communications is offering to pay at least 3.5 percent of the principal for notes validly offered, according to a more detailed memo to holders of the bonds dated Aug. 3 seen by Bloomberg News.
"The options Reliance Communications is offering bondholders don't look very favorable," said R. Lakshmanan, senior research analyst at CreditSights in Singapore.
A Reliance Communications spokesman wasn't able to immediately reply to an email and call seeking comment.
Global Cloud Xchange bonds due 2019 fell 1.8 cents, the sharpest drop since May, to 87 cents on Tuesday, Bloomberg-compiled prices show.