Hertz Squeezes Shorts With Tesla-Like Vow to Stop Burning Cash
(Bloomberg) -- Hertz Global Holdings Inc. is pulling a Tesla.
The rental-car company is burning short sellers with a vow to put an end to its cash-burning ways, much like the electric-vehicle maker run by Elon Musk. Chief Executive Kathy Marinello told analysts during an earnings call Tuesday that Hertz will start generating cash next year, spurring the biggest intraday rally for its stock since March 2009.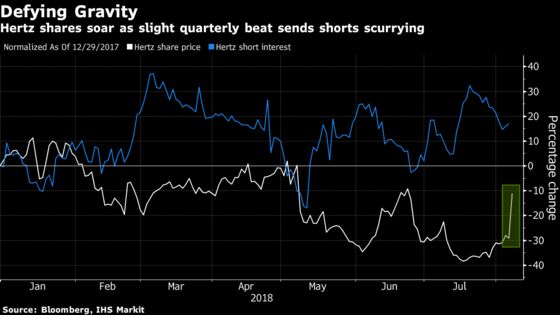 Hertz and Tesla Inc. are among the most shorted stocks in the U.S. market. Whereas Wall Street had been questioning Musk's ability to sustain higher production of Model 3 sedans before his company's bullish earnings report last week, Marinello has been dealing with doubts about used-vehicle prices and the threat that ride-hailing companies like Uber Technologies Inc. pose to the rental car business model.
Read more: Hertz's beat turns focus to ride sharing
For Hertz, rebounding revenue and better cash flow are signs of turnaround, said Hamzah Mazari, an analyst with Macquarie Capital. Much of the shareholder base other than Carl Icahn, the company's biggest holder, had been betting against the stock, he said.
"You are clearly seeing a short squeeze today," said Mazari, who has a $30 price target. "They will continue to cover their short positions because the data points will only get better."
Hertz shares surged as much as 30 percent and were up 27 percent at $19.85 as of 11:40 a.m. in New York. The company's 5.5 percent bonds due 2024 gained 4.5 cents earlier to 84.5 cents on the dollar, the biggest advance since they were issued in 2016, according to Trace.
"There are signs today that the worst is done," said Joel Levington, a credit analyst with Bloomberg Intelligence. "The same thing happened with Tesla. It wasn't the greatest quarter but it was enough to put the shorts in a squeeze."
Read more: Tesla rally results in $1.7 billion short burn