Loomis Sayles, Schroder See Reasons to Buy Indonesian Bonds
(Bloomberg) -- Indonesia has at times felt uncomfortably close to the center of this year's emerging-market selloff as bond yields rose for five straight months and the rupiah slid more than 6 percent. Some funds are now saying it's time to get back in.
Loomis Sayles & Co. is looking to buy more Indonesian bonds, citing sound domestic fundamentals and inflation that's close to target. Western Asset Management Co. says a proactive central bank and the recent yield increase may be creating a buying opportunity for the nation's dollar debt. Nomura Holdings Inc. and Schroder Investment Management Ltd. are also positive.
"Indonesia's response to the wider emerging-market turmoil has been ahead of the curve," said Desmond Soon, Singapore-based head of investment management for Asia ex-Japan at Western Asset, which oversees $420 billion. "We should be buying as Indonesia's dollar bond yields rise when there is no material increase in default risk -- rather than selling."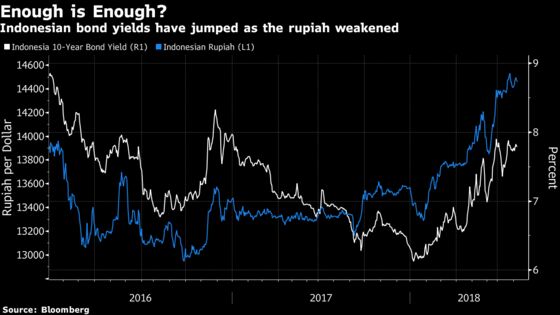 The bullish sentiment about the bonds of Southeast Asia's biggest economy highlight that areas of perceived value are emerging amid a slide in developing-nation assets that started in January. Investors are focusing on the countries that will be less affected by global trade tensions and those in which policy makers are proving most adept at managing the impact.
Indonesia found itself relatively vulnerable to the selloff in emerging markets given that more than a third of its sovereign bonds are held by overseas investors. At the same time, the nation has a widening current-account deficit and is exposed to swings in commodity prices.
Yields on Indonesia's 10-year bonds climbed for five straight months through June to reach a high of 7.90 percent, up from 6.32 percent at the end of 2017. Those on its dollar-denominated debt have climbed 81 basis points this year to 4.34 percent. The rupiah slid to 14,565 per dollar last month, a whisper away from a 17-year low set in 2015.
Positives are now emerging. The government predicts economic growth will accelerate to 5.2 percent this year, from 5.1 percent in 2017, while inflation slowed to 3.18 percent in July from as high as 4.37 percent last year.
Loomis Sayles, which owns both Indonesia's local-currency and dollar bonds, says the positive domestic outlook will support demand for Indonesian assets once risk sentiment improves.
"As long as global-growth projections aren't impacted by the uncertainty that comes with the trade protectionism rhetoric of the past couple months, these are just better levels to buy Indonesian risk," said Lynda Schweitzer, a portfolio manager on the global bond team at Boston-based Loomis Sayles, which oversees $264 billion. "For now though, weaker market sentiment toward risk suggests patience is the right strategy."
Indonesian bonds are becoming more attractive due to better valuations and stronger economic fundamentals, Nomura analysts Vivek Rajpal and Prashant Pande wrote in a note on Wednesday. Demand will increase after yields rose for most of the first half due to the unwinding of foreign investor positioning amid a selloff in emerging-market debt, they wrote.
Read more: Rupiah bonds hit back to top EM returns in July
Indonesia's response to the selloff has also afforded investors a measure of comfort and helped burnish the appeal of its bonds. The central bank has announced a raft of measures, including a new overnight benchmark rate for banks and raised its benchmark interest rate three times starting in May to support the ailing rupiah.
A smaller supply of government bonds may also lend support to the rupiah debt market. The Finance Ministry plans to lower net issuance by 6 percent to around 384 trillion rupiah ($26.6 billion) this year, Loto Srinaita Ginting, director of budget financing and risk management, said on Wednesday.
Schroder Investment Management Ltd. is also among the bulls, having a medium-term positive view on the nation's dollar-denominated bonds.
"We anticipate that eventually the broad-based dollar strength is likely to plateau in the coming weeks or months and this could result in an improved sentiment toward Indonesian dollar bonds," said Manu George, director of fixed income in Singapore at Schroder Investment, which oversees the equivalent of $582 billion. "U.S. growth is in its late cycle and the fact that it has a twin deficit, current-account and fiscal, are likely to be headwinds for the dollar."