Consumer Credit in U.S. Rose Less Than Estimated in June
(Bloomberg) -- U.S. consumer debt rose less than estimated in June as revolving debt outstanding fell for the second time in four months, Federal Reserve figures showed Tuesday.
Highlights of Consumer Credit (June)
Total credit increased $10.2b (est. up $15b) after prior month was revised down slightly to $24.3b gain (prev. $24.6b)
Revolving credit outstanding fell $185m m/m, after $9.6b rise
Non-revolving debt outstanding rose $10.4b m/m after $14.7b increase
The drop in revolving debt, which includes credit cards, signals consumers took a breather after such borrowing in May jumped by the most in six months.
Meanwhile, non-revolving debt, which includes loans for education and automobiles, remained robust, in part reflecting healthy demand for vehicles. The Fed's consumer credit report doesn't track debt secured by real estate, such as home equity lines of credit and home mortgages.
The results are consistent with second-quarter data that showed household spending rebounded to the fastest pace of growth since 2014, after a weak start to the year. While consumers are benefiting from lower taxes and strong hiring, moderate wage gains and higher gasoline costs indicate they may be wary of taking on too much debt.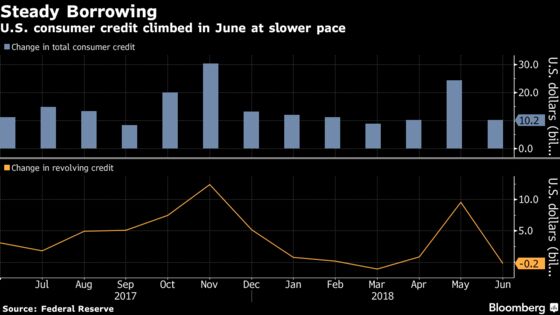 Other Details

Lending by the federal government, which is mainly for student loans, rose by $3.4 billion in June, before seasonal adjustment
Credit climbed at a seasonally adjusted annual rate of 3.1 percent, after 7.5 percent in the prior month
©2018 Bloomberg L.P.