Commonwealth Bank's Record-Profit Run Ends on Scandal Costs
(Bloomberg) -- Commonwealth Bank of Australia's record-profit run is over after the nation's biggest lender paid the price for a series of scandals and missteps.
Cash profit from continuing operations fell 4.8 percent to A$9.23 billion ($6.85 billion) in the 12 months ended June 30, the Sydney-based lender said in a statement Wednesday. That was the first drop in annual profit in nine years.
"It's been a difficult 12 months,'' Comyn said in a statement. "We got some things wrong. We have made mistakes. We absolutely need to make sure we do not make them again."
For more details on the earnings, click here
As well as the A$700 million penalty agreed to in June to settle allegations of systemic breaches of anti-money laundering laws, the bank also took a further A$389 million provision for compliance and regulatory costs. A damning regulatory report into Commonwealth Bank's culture, commissioned after the scandal broke last year, found the organization was complacent from the "top down."
"Whenever you're getting heavily scrutinized by not only a regulator but a Royal Commission, you're not going to be coming out guns blazing," said Brett Le Mesurier, banking analyst at Shaw & Partners in Sydney. "You could say it's quite a reasonable performance given everything that's being thrown at it."
Commonwealth Bank shares rose as much as 2 percent in early Sydney trading.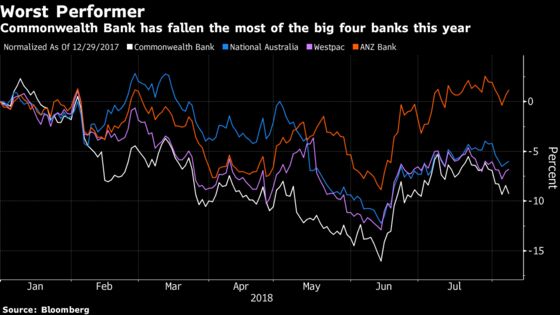 The outcry over the breaches was a catalyst for a government-appointed inquiry into misconduct in the financial industry, which has heard a succession of horror stories of customer mistreatment by banks.
As well as struggling to regain trust after the scandals, Commonwealth Bank is also confronting a tougher revenue outlook. Its boom years were built on mortgage lending growth during Australia's property boom, but now housing prices are falling and regulatory curbs have hit the previously lucrative investor market.
Mortgage-lending growth slowed to 3.7 percent, compared to 5.6 percent for the overall banking industry, the bank said in the statement. Owner-occupier lending rose 6.2 percent while investor lending fell 1.2 percent. Deposit growth of 4.2 percent was also below the industry average of 5.5 percent.
For investor sentiment to recover and Commonwealth Bank to justify its historic share price premium over other lenders, it must demonstrate the business is improving, David Ellis, banking analyst at Morningstar Inc. told Bloomberg TV. "The new CEO and new senior management really do need to kick-start that business momentum."
Other highlights from the results:
Cash profit including discontinued operations and one-time charges fell 4.7% to A$9.41 billion
Commonwealth Bank will pay a A$2.31 dividend, taking full-year payout to A$4.31
Bad-debt provision fell 1.5% to A$1.08 billion
Net-interest margin rose to 2.15% vs 2.10% on repricing of investor loans  
Costs, including the money-laundering penalty, rose 9.2% vs income growth of 2.6%