Biotech Small-Cap Looks to Rival Pfizer With Rare Disease Drug
(Bloomberg) -- A small-cap biotechnology firm that took part in a red-hot summer for going public thinks its lead drug can compete with industry heavy-weights like Pfizer Inc.
Eidos Therapeutics Inc. is set to release results from a mid-stage study of its drug for a rare, deadly disease in coming months. Investors will be looking for good news: shares dropped some 30 percent since just after going public less than two months ago.
The condition, characterized by the buildup of abnormal deposits of a protein called amyloid in the body's organs and tissues, is "wildly under diagnosed," Chief Financial Officer Christine Siu said in an interview at Bloomberg's New York headquarters on Aug. 3. "This is a huge and growing market with new advances and diagnostic techniques that make it large enough for multiple entrants."
Results may be a couple of months away, but investors will get a key look at full data for Pfizer's tafamidis on Aug. 27 at the European Society of Cardiology Congress 2018 in Munich, Germany. Pfizer has said the drug has significantly helped patients with transthyretin cardiomyopathy, and the data will offer a read-through to Eidos's AG10 given the compounds' similarities.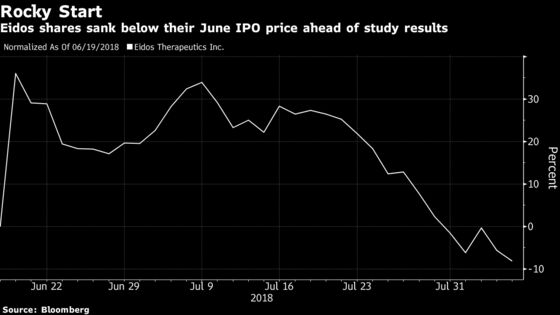 The drugmaker plans to release Phase 2 data of AG10 before the end of the year. The study is meant to ensure the drug behaves the same way in sick people as it does in healthy patients, and will help guide a late-stage trial that is on track to start next year.
Eidos's recently-completed public offering, which raised more than $100 million, ensured the company can execute later-stage, pivotal trials in the right way, Siu said.
The San Francisco-based biotech is a subsidiary of BridgeBio Pharma, which has 16 programs and a goal to create biotech companies that are built around a single drug, Chief Medical Officer Jonathan Fox said in the same interview.
Eidos's public offering came in the midst of a sector-wide rush to the market, where venture capitalists looked to cash in on innovation and raise funds to advance clinical trials.