Argentine Issuers to Sell $5 Billion of Debt by March, Itau Says
(Bloomberg) -- Argentine companies will sell at least $5 billion of overseas bonds by March, reopening a window that has been closed for the past three months amid economic volatility, according to the head of Itau Unibanco Holding SA's international fixed-income unit.
Between $3 billion and $4 billion will be sold by a group of firms recently awarded public-private contracts to build roads, while the remainder will come from blue-chip companies, according to Baruc Saez. He doesn't expect the federal government or provinces to issue debt before the end of the first quarter, helping boost demand for the corporate notes.
"Argentine issuers will start selling international debt in September," Saez, who is based in New York, said in an interview during a visit to Buenos Aires. "The market will be able to easily digest $5 billion of bonds."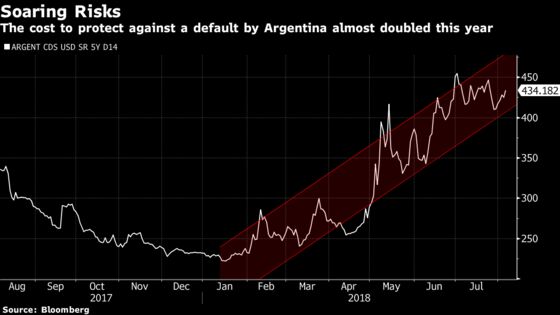 A return to capital markets will test appetite for debt from the country following a currency wipeout earlier this year that compelled the government to seek a bailout from the International Monetary Fund. The bonds from the public-private projects will be treated as quasi-sovereigns and gauge investors' tolerance for taking on government debt in particular. The cost to insure the country's international debt with credit-default swaps is now almost twice as high as it was in January.
Argentine governments and companies issued $26 billion of overseas debt last year. So far this year, the Argentine government has sold $9 billion, while corporates and sub-sovereigns have sold $2 billion. Telecom Argentina SA had to pull a $1 billion bond sale in April amid market turmoil, and no company has issued since then.