It's Been an Afternoon of Terror for Tesla Shorts
(Bloomberg) -- What's in a tweet? Almost $800 million of potential losses to short sellers, when it comes to Tesla's Chief Executive Officer Elon Musk.
News that he's considering taking the company private at an $82 billion valuation helped ignite an 11 percent rally in the shares, which at one point were halted for 90 minutes. The stock, up before Musk's initial tweet on reports Saudi Arabia's sovereign wealth fund had built a stake, saw its market value swell by $6.4 billion.
The number of shares borrowed to sell the stock short stands at 33.8 million shares, according to data compiled by IHS Markit, meaning that Musk's tweet alone sent a $783 million shock through the bear patch.
The founder and largest shareholder of Tesla has had a history of taking shots at traders who bet against his money-losing electric-car maker through his Twitter account, where he has 22 million followers. The company with the highest short interest among any American firm has been criticized for burning through cash. Taking Tesla private would be an extreme albeit effective way of muting Tesla's bears, according to Michael O'Rourke, chief market strategist at JonesTrading.
"He has had this adversarial type of relationship with short sellers and a number of people in the market," O'Rourke said. "Maybe going private does provide the opportunity to focus more on the business and not having Twitter wars with people that tend to distract."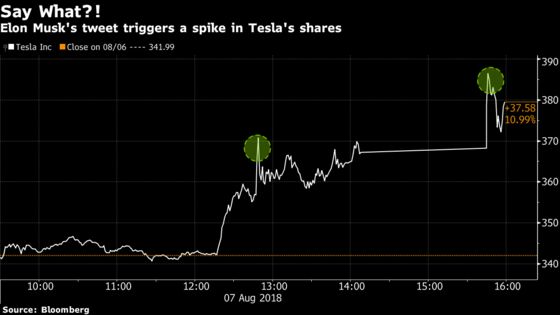 Betting on declines in Tesla has never been for the faint of heart. Its 16 percent rally last Thursday after better-than-expected earnings erased the stock's losses for the year. That was occasion for mark-to-market losses of $1.1 billion for shorts. And if Tesla were to go private at $420 a share, shareholders could see losses balloon to $4.4 billion for the year, according to S3 Partners, a financial technology and analytics firm.
One of Musk's numerous tweets aimed at short sellers said on May 5 that the "short burn of the century" was coming soon.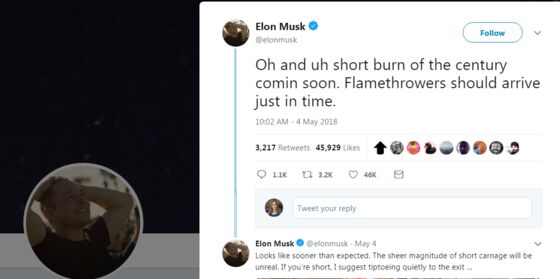 A further rally in Tesla will most likely mean bears would have to cover their positions at a loss, discouraging other shorts from piling in, according to O'Rourke.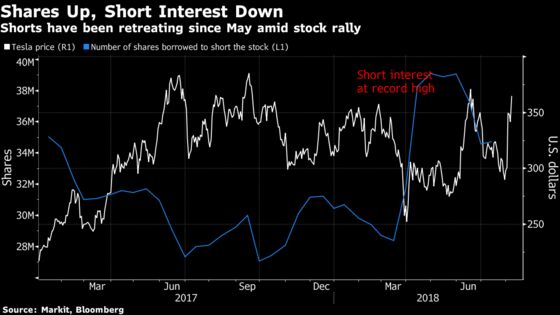 It's not just short sellers that Musk has been lashing out at, but also the media and Wall Street analysts. During the May 2 earnings conference call, he scolded analysts for asking what he said were "bonehead" and "dry" questions about the Model 3 and the company's cash position.
"I don't think shareholders would mind if he just went about running the company," said Michael Antonelli, an institutional equity sales trader and managing director at Robert W. Baird & Co. "Musk views short sellers as people who don't understand his company, and he takes it personally. When his stock goes up, he likes to poke fun of them. It's similar to the relationship between Trump and the media."
Earlier Tuesday, the Financial Times reported that Saudi Arabia's Public Investment Fund had built an undisclosed stake of between 3 percent and 5 percent this year, citing unidentified people with direct knowledge of the matter. The position is worth between $1.7 billion and $2.9 billion, the newspaper said. Short interest in Tesla, which has advanced 15 percent this year, has been subsiding after touching a record high of 42.9 million in May.
For more on Tesla's challenges, check out the Decrypted podcast: