Valeant Faces Wall Street in New Incarnation as Bausch
(Bloomberg) -- The pharma company formerly known as Valeant still has a lot to prove, beyond a name change.
The innocuously-named Bausch Health Companies Inc. will report second-quarter results Aug. 7, with eyes aptly enough on sales if its biggest business, Bausch + Lomb. The pace of growth for its potential blockbuster gastrointestinal drug Xifaxan will also be under the microscope. Increased transparency into its dermatology business that many have pegged as the driver for its road to recovery will be in focus. Sales in the segment have yet to post a major rebound.
Bill Ackman's former darling -- the Pershing Square chief executive lost more than $4 billion on that bet, according to Bloomberg calculations based on public filings -- took on its new name last month, hoping to leave its ghosts in the past. Shares are down 4.4 percent since the renaming last month compared to a basket of peers that is up 3.7 percent.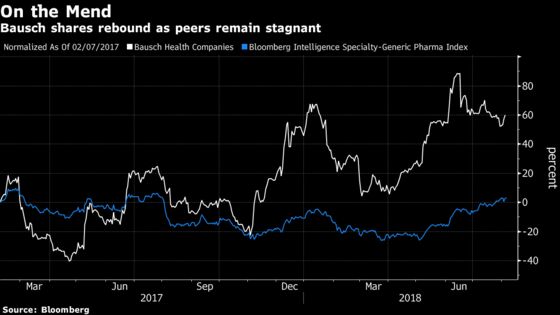 Even if the 59-year-old company reports good results tomorrow, it faces a multi-billion dollar debt problem that won't be fixed with just one good quarter, according to Wells Fargo analyst David Maris. The drugmaker was carrying close to $25 billion in net debt at the end of the first quarter.
"Without powerful R&D and facing loss of exclusivities on key products, we expect sales to remain stable despite new product launches until the loss of Xifaxan, when we expect sales to decline significantly," Maris wrote in a note to clients. He has held an underperform rating on the stock since he initiated coverage almost three years ago.
RBC's Douglas Miehm, who holds an neutral-equivalent rating on Bausch Health, sees "an improving fundamental picture with valuation not particularly attractive."
Updates surrounding the company's plaque psoriasis lotion, Duobrii, and its path to approval will be in focus, according to Miehm. Any indication from management on some of its notable new drug launches could stir optimism.
The "turnaround opportunity of a lifetime," as Chief Executive Officer Joe Papa put it, remains in the early innings. A trio of drugs are hitting the market this year with the goal of replacing sales that are reliant on keystone drugs poised to face greater competition from generics.
Bloomberg Intelligence analyst Elizabeth Krutoholow sees the turnaround looking good, with a pair of its key businesses -- opthamology and gastroenterology -- have shown signs of a rebound,
"The recent name change from Valeant will help with rebranding and, coupled with a strong quarter, we think could turn around the specialty-pharma company," Krutoholow wrote.
2Q adj EPS est. 80c (range 69c-91c)
2Q rev. est. $2.06b (range $1.98b-$2.12b)
2018 adj EPS est. $3.36 (range $3.00-$3.76)
2018 rev. est. $8.3b (range $8.15b-$8.45b), co. forecast $8.15b-$8.35b (May 8)
BHC has 6 buys, 8 holds, 5 sells, avg PT $22.20: Bloomberg data
Implied 1-day share move following earnings 9.1%: Bloomberg data
Beat EPS ests. in 7 of past 12 quarters
BHC shares are up 51% in past year vs BI's specialty & generic pharma (BIGLSGPC) index UP 15%
Earnings release expected pre-mkt Aug. 7
Call 8am ET, (844) 428-3520 pw 1378128