Talking Your Book in This Market Is Getting Easier: Taking Stock
(Bloomberg) -- Stock futures are off their lows after a conspicuous spike at ~5:48am that lifted Europe's Stoxx 600 and Germany's DAX into the green, though no clear catalyst has been attributed for the move as of yet.
Shanghai Composite fell another 1.3% (now down 8 of last 9 sessions) after the double whammy response on Friday of the PBOC's reserve requirement action, which effectively makes it more expensive to short the yuan, and the released list of $60 billion in retaliatory tariffs on U.S. goods.
Given the current state of affairs and a constant tug of war between getting defensive vs raging momentum, it isn't too hard for a bull or a bear in this market to talk their book and give a laundry list of reasons for their broader-based recommendations. Here's a quick look at how some are pumping their calls given recent newsflow, eco datapoints, market internals, and so forth.
The benchmark 10-year bond yield is back down to ~2.95% (after a brief break above 3.00% last week), or more than 200bps below Jamie Dimon's latest forecast. The JPMorgan CEO told a gala this weekend that the 10-year should be at 4% today and suggested that 5% was a distinct possibility. This scenario would keep the bank stocks cruising above their recent range and put a lid on a more powerful rotation into the more defensive sectors.
But the call for a rip in yields in the very near term may be tough to swallow, as Baycrest Partners Chief Market Technician Jonathan Krinsky points out; he sees high odds of a short squeeze in the 10-year given 1) large speculators are most net-short the 10-year that they've been in eight years, and 2) August and September are the most bullish months of the year for the 10-year, with yields having dropped 16 of the last 20 times in August. In turn, Krinksy expects the falling yield to give a bid to consumer staples, utilities, telecoms, and REITs, all of which are "primed to do well here."
Additionally, Morgan Stanley strategist Michael Wilson is pounding the table for the umpteenth time on his defensive rotation call. He says that the rolling relative earnings revisions in some areas of tech, continued defensive leadership, PMI misses, and breadth diverging from price all builds to risks for momentum, which may trigger a significant market correction. He adds that Apple's $1 trillion milestone "sure sounds like a 'ringing of the bell' to us."
Here's some bullish food for thought to start off the week:
The S&P 500 has climbed for five weeks in a row and is now just over 1% away from breaching a record high
Every sector is in green for the third quarter to date aside from energy: Health care is leading with a 7.5% gain while industrials, financials and consumer staples are all up more than 5%
Bids remain lined up at the 2,800 support level after multiple successful tests in the past three weeks (see chart below)
Internal breadth measures are pointing bullish, for example the continued uptrend in the NYSE Advance-Decline line (see chart below); Oppenheimer's Ari Wald notes that the A-D line peaked before the S&P 500 in 12 of the 15 major tops since 1950, and the median lead time between peak in breadth and peak in price has been 5 months
August is the most popular month for buybacks (13% of annual totals), according to Goldman, who notes that significant potential demand remains for shares as tech firms (40% of year-to-date authorizations) complete their existing programs
The market seems to be taking the latest escalation in the U.S.-China trade war in stride; the latest wrinkle which doesn't appear to be impacting the tape is the South China Morning Post reporting Friday that the both sides held unofficial talks last week, but a "deep and mutual distrust" continues to hamper things
The panic-inducing three-day selloff in tech is looking more and more like a blip and bulls are now wagering on which megacap will follow Apple in the trillion-dollar sweepstakes: Amazon at $889b, Alphabet at $856b, and Microsoft at $828b.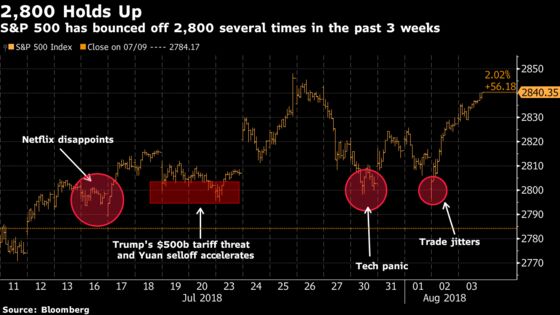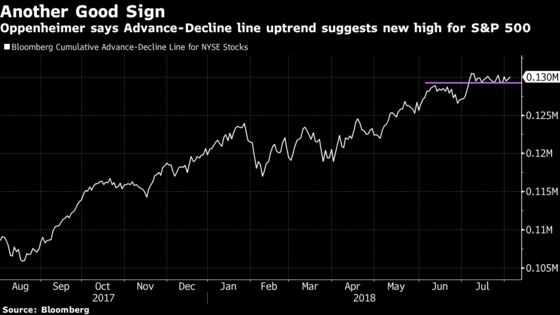 Barclays downgraded Intel to an equal-weight as the stock is "hard to defend in a vacuum," adding that the preliminary list for a CEO replacement "does not appear to be in the direction we had hoped"..
Two positive notes on Qualcomm today: 1) Cowen upgrades shares to outperform on compelling risk/reward given more clarity into 5G, and 2) Morgan Stanley says contrary to investor expectations, underweight-rated Qualcomm appears to be securing the majority of 5G-related RF component wins in smartphones expected to be released in 2019, a development that would "feed the bear case" in underweight-rated Skyworks and equal-weight-rated Qorvo..
Cowen separately upgrades Applied Materials to an outperform on an expected rebound in memory WFE.. and Stifel adds buy-rated Facebook to its Select List with the headline: "Giving Facebook Shares a Courtesy Like"..
Tick-by-Tick Guide to Today's Actionable Events
Today -- First phase of restoration of U.S. sanctions on Iran to take effect
Today -- IPO lockup expiry: Pinnacle Renewable (PL CN)
7:00am -- BID, CTB, HSIC earnings
7:30am -- TSN earnings
4:01pm -- BRKS, RNG earnings
4:05pm -- ETSY, ZG, HEAR, FIVN, HTZ (roughly) earnings
4:15pm -- TWLO, PI, THC, WTW earnings
4:30pm -- MOS earnings
4:39pm -- ANSS earnings
4:50pm -- ANDV (roughly) earnings
5:00pm -- MAR earnings