Sempra CEO Says He's Holding `Constructive' Talks With Activists
(Bloomberg) -- Sempra Energy Chief Executive Officer Jeff Martin said he's holding "constructive" talks with activist investors pressing for the company to shed assets and shake up its board.
But Elliott Management Corp. and investor partner Bluescape Resources have been frustrated by the pace of the discussions and had hoped for a settlement before Sempra's second-quarter earnings report Monday, according to people familiar with the matter who asked not to be identified because the talks are private.
"We're highly engaged in constructive dialogue at the highest levels of each organization," Martin said on a conference call Monday, noting that he and three board members recently flew to New York for meetings with Elliott and Bluescape.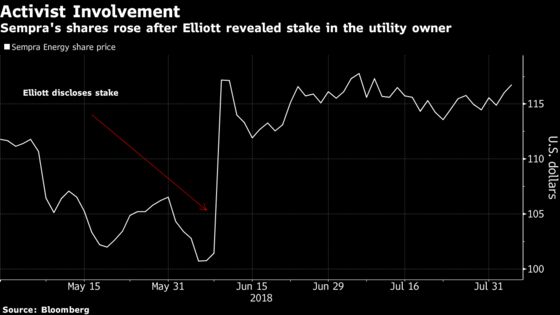 Elliott and Bluescape, which together own a 4.9 percent stake in the San Diego, California-based utility owner, have been pushing for Sempra to streamline its business by selling its Latin American utilities and spinning off a liquefied natural gas business. Elliott has also called for six new directors on Sempra's board.
The latest talks have focused on board representation and the formation, makeup and mandate of a strategic-review committee, the people familiar said. Elliott has called for a top-to-bottom strategic review to improve the company's performance, they said.
Sempra "will continue to welcome shareholder input as we evaluate our portfolio and, at the appropriate time and under conducive market conditions, pursue additional opportunities to create long-term value for all shareholders," Doug Kline, a Sempra spokesman, said in an emailed statement.
A representative for Elliott declined to comment.
Sempra has previously said it would sell all of its U.S. wind and solar assets and some natural gas storage facilities -- moves that led to $900 million in charges on its second-quarter results. The company said in June -- and reiterated Monday -- that it would also consider selling its Latin American utilities as part of a strategic review. It hasn't bowed to pressure to spin off its LNG business.
Shares of Sempra slid 1.2 percent to $115.35 Monday. They have fallen 1.6 percent in the past year. The company reported adjusted per-share earnings of $1.35 for the second quarter, beating the highest estimate of analysts. Revenue was $2.56 billion, below the average estimate of $2.64 billion.