Rite Aid Forecast Cut a `Tough Blow' Before Albertsons Vote
(Bloomberg) -- Rite Aid Corp.'s reduced full-year earnings projection leaves shareholders in a quandary just three days ahead of a vote on the company's merger with Albertsons Cos.
Commentary from the two biggest proxy advisers painted a gloomy picture for the deal vote scheduled Aug. 9, as holders typically stick with the adviser recommendations. Now, investors will have to weigh the worsening profitability outlook against the risks associated with the deal. Shares plunged as much as 12.5 percent on Monday, the most since late June.
The lower guidance is a "tough blow" to shareholders given its proximity to the merger vote, Evercore analyst Ross Muken wrote in a note. "We have continued to view the outcome as 'lose, lose' and this update does nothing to change that view."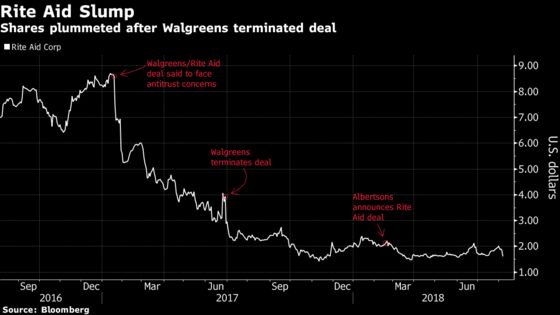 Muken's sour view isn't in isolation. Susquehanna litigation analyst Joseph Stauff wrote earlier that the drug store's profit warning would do little to persuade shareholders against voting down the Albertsons deal.
"We think investors can easily "see though" the intent of this am's tactic, but do not believe it will 'scare' enough votes into the 'yes' category to matter," Stauff wrote. Rite Aid's "lowered guidance" three days before vote is a very "unusual" move to get more votes, though the "aggressiveness" of the move suggests that Albertsons needs "considerably" more votes to get the deal completed, he added.
Rite Aid investors can't seem to catch a break. The stock has plummeted 77 percent in the past two years, as its takeover by Walgreens Boots Alliance Inc. fell apart amid antitrust scrutiny. Walgreens eventually agreed to buy 1,932 Rite Aid stores, leaving behind a far smaller company with a now more uncertain future.
ISS reiterated its recommendation against the deal with no changes to its advice in an updated note, writing that today's new information doesn't alter the basis for its original analysis. Albertsons, backed by private equity firm Cerberus Capital Management LP, didn't immediately return calls seeking comment. Rite Aid said there is no change to timing of holder meeting.