IWG Plummets After Abandoning Talks With Takeover Firms
(Bloomberg) -- After months of protracted courtship by multiple suitors, IWG Plc decided it doesn't want to be sold at a price that private equity firms are willing to pay. The shares plummeted.
The owner of serviced-office provider Regus informed Starwood Capital Group LLC, TDR Capital LLP and Terra Firma Capital Partners that it will not continue discussions regarding their possible offers for the firm.
"The board unanimously believes that none of the interested parties is currently capable of delivering an executable transaction at a recommendable price," IWG said in a statement on Monday. "The board remains confident in the long-term value of and opportunities for IWG."
The news, combined with a decline in operating profit in the first half, sent the shares as much as 26 percent lower in London. They were down about 21 percent to 236.50 pence at 10:10 a.m., cutting the company's market value to about 2.2 billion pounds ($2.9 billion).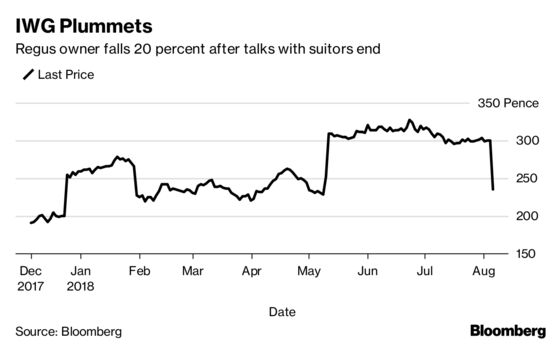 IWG had lured interest from at least six different parties since December after a profit warning hit the company's share price at a time when companies are increasingly seeking more flexible leases like those offered by co-working and serviced office providers. The shift toward greater flexibility has powered the growth of WeWork Cos., the flexible office provider backed by SoftBank Group Corp. that has become one of the world's most valuable start-ups with a $20 billion valuation.
IWG has been investing heavily in expansion, particularly for its co-working brand Spaces, as it seeks to update its portfolio and capture the demand for trendier decor and amenities. The company has added the equivalent of more than twice the office space at One World Trade Center to its portfolio this year.
"Given that all bidders faced the challenge of gauging how much further the aggressive action of WeWork and others will go before levelling off and eventually easing, and that earnings were recently downgraded, this was an exercise in catching a falling knife," Peel Hunt analyst Andrew Shepherd-Barron wrote in a note to clients.
Operating profit fell 29 percent to 60 million pounds in the first half on a constant exchange basis, partly because of weakness in the U.K, the firm said in an earnings statement on Monday.
"There are parts of the U.K. business that are doing very well," IWG Chief Executive Officer Mark Dixon said in a Bloomberg Television interview on Monday. "What's causing the weakness is some of the older centers coming out of the network for refurbishment and some closures of centers that have become too old."
The cost of expanding and upgrading, together with a disappointing performance from the company operations in the highly competitive U.K. market, are hurting its earnings. Indeed, the prospects for organic growth are "grim," Green Street Advisors analyst Hemant Kotak said in a report last month.