Mapping Unpaid Women's Work Is India's Answer to Jobs Puzzle
(Bloomberg) -- India is trying to improve its jobs statistics with time-use surveys to estimate the value of unpaid work, especially household chores by women.
The government plans to start a yearlong exercise in January to survey households on how they spend their time, Debi Prasad Mondal, director general of the National Sample Survey Office, said in an interview in New Delhi. Its findings will be released around June 2020 and the plan is to repeat it every three years.
"We will be able to understand how much time is spent in cooking and washing," Mondal said July 26. The findings would give policy makers more information about employment in the economy and how to target welfare programs.
The world's fastest-growing major economy has some huge data gaps that make it difficult to get a good reading on what's happening in key sectors, such as the jobs market, retail and housing. About 700 million Indians, more than twice the population of the U.S., aren't part of the workforce and their contribution at home isn't recorded in the national income.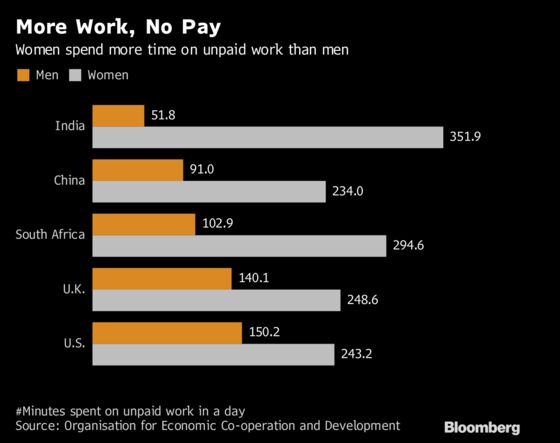 Globally, women work more than men. They perform around 75 percent of the world's unpaid care and domestic work, valued at 13 percent of global gross domestic product. If included in national accounts, the unpaid care economy would represent between 15 to over 50 percent of gross domestic product, according to a United Nations report.
The contrast is starker in India where a large number of women never join the workforce or quit jobs to take care of children and the elderly at home. Women make up 49 percent of the 1.3 billion-strong nation and spent about 352 minutes a day on unpaid work against 51.8 minutes by men.
Time Use Surveys and the Global Experience...
India's GDP can grow by 27 percent if women's participation in the economy is raised to same level as those of men, according to a research by the International Monetary Fund. The rate of women's presence in the labor force is declining even as nearly 43 percent of them earn more than or equal to their spouses, the finance ministry's Economic Survey showed.
"India's labor and employment surveys broadly capture the work done by men. Many women are not in employment so we don't get much details about them," said Mondal.
A breakdown of how women spend time can help design policies that make their lives easier and bring electoral gains for governments. A case in point is Modi's program to provide cooking gas in rural India to help women save time spent in collecting firewood. A time-use survey will show how women are using this spare time.