HSBC's Equities Unit Worst Among Banks Amid Surge for Rivals
(Bloomberg) -- HSBC Holdings Plc posted one of the worst equities-trading revenue performances among global banks in the second quarter amid an overall slump at its markets business.
Revenue from stock trading at the Asia-focused bank fell 17 percent to $279 million, according to a company presentation. U.S. banks posted a 14 percent average increase for the period and some of HSBC's European rivals, including UBS Group AG and BNP Paribas SA, reported similar gains as volatility in markets soared in the final weeks of June.
HSBC's larger fixed-income trading business fell 12 percent to $1.3 billion, again in contrast with gains reported by most U.S. banks. That was because of "tighter spreads and lower client activity versus a strong" comparative second quarter last year, according to a presentation by the London-based bank. Other European lenders, including BNP and Deutsche Bank AG, reported larger declines.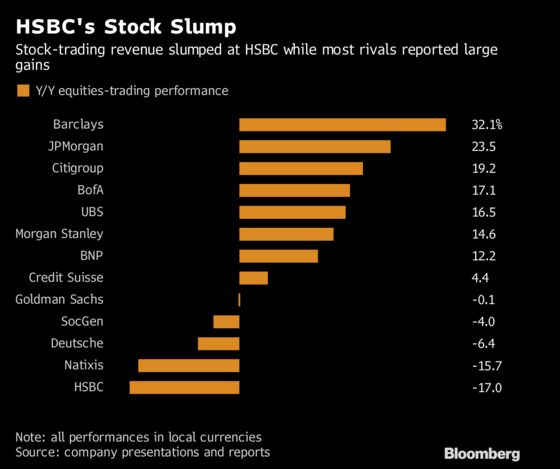 Executives at HSBC's investment bank, led by Samir Assaf, have spent time reviewing the structure of the equities unit in an attempt to improve the performance of the undersized division, and revenue increased every quarter in 2017 and the first quarter, presentations show. Still, the business is one of the smallest among global lenders and was outside the top six last year even in Asia Pacific, the region where the lender gets most of its revenue, according to data from Coalition Development Ltd.
Many global banks' equities units have gained this year from spikes in volatility, the swings in asset prices that prompt clients to make more trades and hedge their positions and which traders can exploit for profit. Firms including JPMorgan Chase & Co., Citigroup Inc., Barclays Plc and Morgan Stanley reported double-digit gains for the first six months of the year, compared with a 1 percent increase in adjusted revenue at HSBC.
Some of HSBC's rivals, such as Citigroup and Barclays, have also tried to overhaul performance at their equities units to bolster profit and reduce their reliance on fixed-income trading, which has become more costly under rules introduced since the financial crisis.