Heatwave Boosts U.K. Retailers But Concerns Mount Over Rate Hike
(Bloomberg) -- The sweltering summer drove Britons to splurge on food, drink and days away but the boost to retailers may prove short-lived, with higher interest rates expected to hit already fragile consumer confidence, surveys published Tuesday found.
Payments processor Barclaycard said that spending rose an annual 5 percent in July, capping the strongest three-month period since it started measuring the data in 2014. Spending was also lifted by the England soccer team's best World Cup run for 28 years.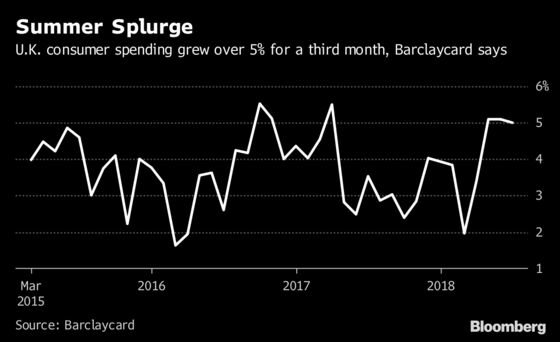 However, households became less confident about their finances, Barclaycard warned. Meanwhile, a separate report by the British Retail Consortium and KPMG showed same-stores growing just 0.5 percent from the year earlier as the strongest July for food sales in five years came at a cost elsewhere.
"Sales of non-food products struggled," BRC Chief Executive Helen Dickinson said in a statement. "Three months into an extended period of summer weather, demand for many seasonal purchases has slowed while the heat has kept shoppers away from days spent browsing new ranges. For many in the industry, Autumn could not come sooner."
Barclaycard said confidence in household finances dropped six percentage points to 59 percent in July, with one in three British shoppers saying they are worried that higher borrowing costs will cut the amount of money they can spend. The Bank of England raised its benchmark interest rate to the highest level since 2009 last week, and Governor Mark Carney signaled the need for further increases over the coming years.
Pubs got a boost from both the heatwave and the World Cup, with spending 41 percent higher on England match days than on the same days in 2017, Barclaycard said. There was a 73 percent increase on the day of England's semi-final loss to Croatia.
The underlying picture for bricks-and-mortar retailers remains one of squeezed consumer spending power, rising costs and online competition. Toys 'R' Us U.K., Maplin Electronics and Poundland fell into administration earlier this year. House of Fraser, New Look, Mothercare and Carpetright, among others, have announced store closures as they battle to keep their business alive.
"July's performance reinforces the fact that it will take more than events-based retail and sunshine to improve the health of the high street," said Paul Martin, the U.K. head of retail at KPMG. "Retailers must improve efficiency, in many cases reinvent themselves and adapt to the changing retail environment, including last week's interest rate rise."