Daimler in Talks to Make Electric Smart Cars in China
(Bloomberg) -- Daimler AG is planning to manufacture battery-powered Smart cars in China with a local partner, in a push to boost sales of the tiny-car brand in cities around the world where parking and emissions are becoming a challenge, according to people with knowledge of the matter.
The German luxury-car maker is in talks to set up a joint venture with Beijing Electric Vehicle Co., a unit of its Chinese partner Beijing Automotive Group Co., to make an electric version of the iconic two-seater, said the people, who asked not to be identified because the deliberations are private. Daimler has been building Mercedes-Benz cars for the mainland with the state-owned group since 2005.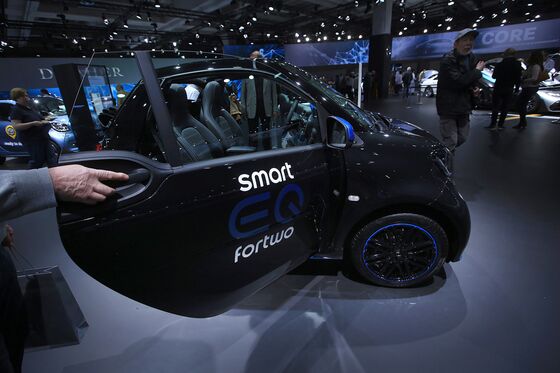 After racking up losses since its launch in 1998, Smart is now hoping that young, urban consumers in the world's largest EV market would rejuvenate the brand and turn to it for parking convenience. In a strategy shift toward electrification, Stuttgart-based Daimler announced changes to the top management at the division in May.
A spokeswoman for Daimler in China and a representative for Beijing Electric Vehicle, locally known as BJEV, declined to comment. Daimler bought a stake of close to 4 percent fixein BJEV in March, a cooperation the German carmaker says would allow it to "further deepen its understanding of Chinese consumers' needs."
It isn't immediately clear how big a stake Daimler would want in the joint venture. Chinese policymakers have lately relaxed the 50 percent cap on foreign ownership of auto ventures: overseas EV makers can set up units on their own starting this year, while the restrictions on passenger vehicles will end in 2022. Rival BMW AG is poised to become the first foreign car company to take majority control of its Chinese venture.
Daimler, which has been importing Smart cars into China, hasn't disclosed sales of the brand in the mainland. Deliveries of the brand globally slumped almost 7 percent last year to 135,025 vehicles, according to the company. Smart's main contribution to Daimler has been to help offset the emissions of high-margin gas guzzlers like the Mercedes S-Class sedan and AMG GT sports car. Plans are afoot to abandon combustion engines for electric models starting in 2020.
In its fight to cap carbon emissions and improve urban air quality, China has emerged as the world's No. 1 market for EVs and is determined to lead the trend in electrification. The country has set up a target to increase sales of new-energy vehicles 10-fold to 7 million units annually by 2025, including plug-in hybrids, pure-electric and fuel-cell vehicles.
While companies such as BMW are bolstering their presence in China to escape a tariff war between the U.S. and China, Daimler's joint venture is primarily meant to cater to the local market and stem the decline in sales of the Smart brand. Tesla Inc. secured a preliminary deal to build a factory near Shanghai last month just days after China's retaliation against President Donald Trump's tariff hikes made auto imports more expensive.
Besides BAIC Group, Daimler has also teamed up with Warren Buffett-backed BYD Co. in China to make pure electric cars under the nameplate Denza. Daimler said in March that it will continue to invest in Denza's product development.
BJEV is also forming two joint ventures with Magna International Inc. for engineering and manufacturing EVs in China. BJEV is planning to list on a mainland stock exchange and is scheduled to start trading soon. BAIC Group's Chairman Xu Heyi said in a June interview with Bloomberg Television that the company would soon announce new partnerships to make premium electric cars in China.