Credit Suisse Hires Julius Baer Bankers for Indonesia
(Bloomberg) -- Credit Suisse Group AG hired private banker Heinz Puth and three others from Swiss rival Julius Baer Group Ltd. to boost its Singapore team focusing on wealthy Indonesians, according to a person familiar with the matter.
Puth and the former Julius Baer relationship managers will report to Johanes Oeni, who heads Credit Suisse's private banking market group for Indonesia, said the person, who declined to be identified as the information is private.
Managing Indonesian wealth has been a traditional focus of Singapore's private banks, though in recent years they have also seen a big uptick in business from rich Chinese. Some 43 percent of Indonesian offshore wealth is held in Singapore, according to a report last year by Capgemini SE.
Puth and the others will join David Lim, who left Julius Baer earlier this year to become Credit Suisse's vice chairman for Southeast Asia. At Julius Baer, Puth was a senior client partner and previously had been deputy head for private banking in Southeast Asia, according to people familiar with the matter. He worked for Credit Suisse until 2006 as market head for Indonesia, one of the people said.
Representatives for Julius Baer and Credit Suisse declined to comment; Puth couldn't be reached for comment.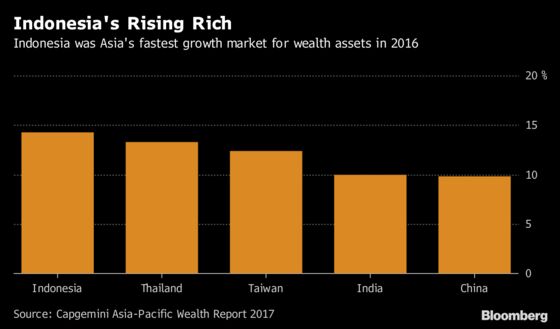 Julius Baer plans to explore options such as acquisitions and partnerships as it seeks to expand its Asia-Pacific wealth management operations, its regional chief said last month.