Blade Runners: Prosthetics Startup Xiborg is Ready for Business
(Bloomberg) -- When he was 15, Keita Sato had to cut off his cancer-ridden right leg.
"I didn't feel sad when I heard about losing my leg," said Sato, now 27 and on the relay team vying for gold at the 2020 Tokyo Paralympics. "There were options."
His option now is a prosthetic blade made by Xiborg Inc., a startup in Japan that develops replacement limbs for athletes. Oscar Pistorius, the double-amputee South African athlete known as the "blade runner," became famous for his speed on the track (before becoming notorious for his murder trial). Now, others have picked up the baton, competing at levels that equal or even surpass uninhibited sports pros.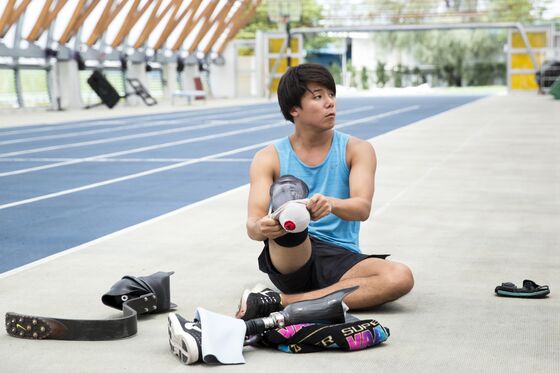 Xiborg's J-shaped carbon-fiber blades are built to transfer as much energy to the ground as possible. Sato's artificial leg has a design that requires more power and technique. He's one of the region's top runners, specializing in sprints, and holds the Asia record of 11.77 seconds in the 100-meter race in his category.
"As more people recognize running with prostheses, we could see faster athletes and the possibility of someone topping the world record," said Ken Endo, Xiborg's founder.
Sato and Endo teamed up in 2014, and Sato ran with a Xiborg prosthetic blade at the 2016 Paralympic Games in Rio, taking bronze in a relay. Sato said he began running during his post-surgery rehabilitation but often wore long pants to hide his legs. The turning point came when he was 17 and met two Paralympians. "They were really positive," he said. "It changed my mind so much."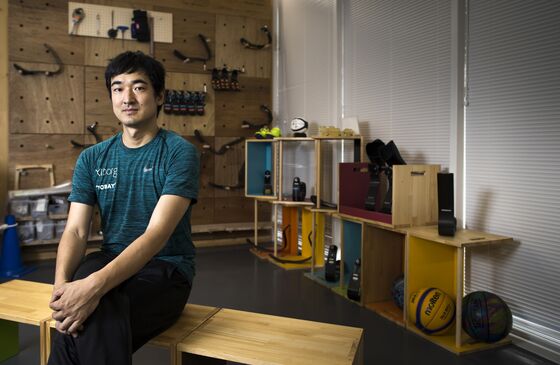 Endo found his passion for developing advanced prosthetics working in the same lab as Hugh Herr, a biophysicist at the Massachusetts Institute of Technology. A double-amputee rock climber, Herr is known for his TED talk about his journey to engineering bionic limbs after a climbing accident. Herr was also instrumental in persuading sports authorities that Pistorius's blades didn't give him an unfair advantage in competitions, paving the way for him join the 400-meter race at the 2012 London Olympics. 
It costs hundreds of thousands of dollars to develop Xiborg's products, according to Endo. The total market for prosthetics is projected to top $3 billion in 2028. For tailored prostheses, the Tokyo-based company uses sensors to check how the athletes move and to find where forces are applied. A prosthetist fine-tunes the blade with feedback from the runners. "An athlete can't get faster just by making a carbon blade harder," said Endo. "It's trial and error."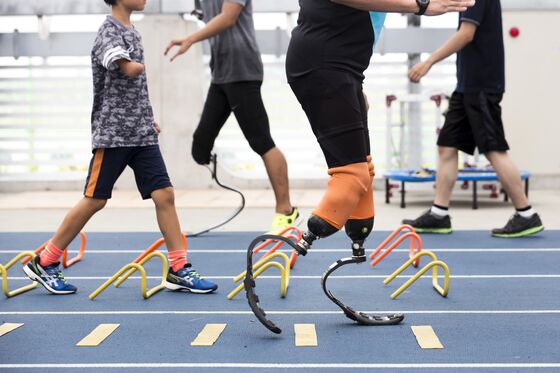 As more athletes with prosthetics compete at world-class levels, a broader population of amputees is increasingly looking for artificial limbs that let them participate in sports activities. That's an opportunity for Xiborg and others such as Ottobock, the German prosthetics market leader, along with Iceland's Ossur. "More people are buying athletic prostheses" in Japan, said Kana Fukaya, marketing manager for Ottobock in Japan. 
Xiborg, working with Toray Industries Inc. and Sony Corp.'s Computer Science Laboratories, is aiming to introduce a new blade this year. The company is also looking to sign up athletes in Japan and the U.S. American Paralympic sprint runner Jarryd Wallace, uses Xiborg's prosthetic blades. "The knowledge and experience of the team at Xiborg will play a huge part in making my dream a reality – to be the fastest amputee the world has ever seen," Wallace wrote on the company's website.