As His Soldiers Fled Wildly, Maduro's Vulnerability Was Exposed
(Bloomberg) -- Just three hours after a drone carrying explosives detonated over Venezuelan President Nicolas Maduro during a parade Saturday, the first suspects were already in questioning. By Sunday evening, a half-dozen had been whisked away. 
All of which has led Maduro's critics to fret publicly that his authoritarian regime is just using the incident as a convenient excuse to further repress the long-suffering people of Venezuela. And they may be right.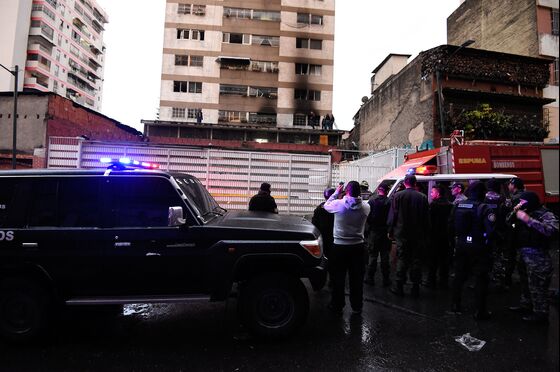 But the episode also serves to underscore just how tenuous Maduro's grip on power is as the country sinks ever deeper into economic disarray. A largely unheard of group by the name of Soldados de Franela (or "T-Shirt Soldiers") claimed responsibility for the attack.
The group's emergence adds to the pressure Maduro is already facing from within his armed forces. As recently as May, scores of highly-decorated servicemen and women unsuccessfully conspired to launch a palace coup and put the socialist president on trial for trampling over the constitution and destroying the oil-based economy. What's more, Maduro faces growing pressure from neighboring countries trying to deal with the thousands of Venezuelans pouring over the borders to escape hyperinflation and hunger.
Maduro, 55, has maintained that he has complete loyalty of his party and the armed forces. But the images of personal guards and soldiers scattering on state television raised obvious doubts for many Venezuelans. Some wondered if the stunt was done to observe the security response from the government in preparation for something more ambitious.
"Authoritarian leaders like Maduro need to make people think they are invulnerable," said David Smilde, a sociologist at Tulane University in New Orleans. "But the optics were terrible. I think it could definitely spark other people's imaginations."
Since the incident, authorities have taken to the airwaves to inform of raids taking place across Caracas. Interior Minister Nestor Reverol said that six people had been arrested and more detentions were expected in the coming hours.
Venezuela's ruling socialist party convened a rally on Monday in the capital to show support for Maduro. There, high-ranking administration officials denounced the attack and a military folk band rallied the crowds, blaring old campaign jingles and state anthems. Maduro, who was expected to close the event, had not appeared before the crowds by the time state TV switched programming.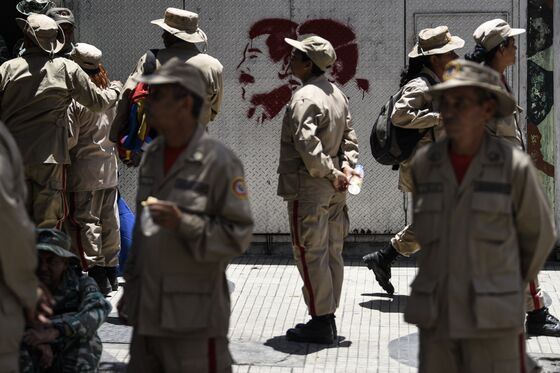 "The country is suffering, prices are through the roof. Those are valid reasons to protest but attempting to assassinate a president is too grave, I don't support it," said Carmen Briceno, 70, a pensioner and student in one of the government's social programs who attended the rally. "This is the first time I go to the streets for Maduro. I used to do it for Chavez a lot, that one I did love."
Saturday's events were broadcast live on television as Maduro spoke, flanked by his wife and defense minister. An explosion was heard and the president was led off stage. Military personnel broke ranks and ran. Then, the broadcast abruptly ended. Photographs from the scene showed at least one soldier with blood pouring down his face.
"They tried to assassinate me," Maduro said in a speech later Saturday. He said a flying object exploded in front him, and seconds later he felt another blast to his right. "That drone was coming for me but there was a shield of love," Maduro said.
Witnesses described a "missile-like" detonation. One resident, who asked not to be identified for fear of retribution, told Bloomberg News that a floating device exploded in the Santa Rosalia neighborhood where the president was speaking, setting a residential building ablaze and injuring multiple civilians.
Maduro immediately accused the political opposition of participating in the attack. He said the culprits were aided by Colombian President Juan Manuel Santos and international financiers based in the state of Florida.
The Colombian Foreign Relations Ministry rejected that suggestion as "absurd" in a statement late Saturday night. Ivan Duque, a close ally of former President Alvaro Uribe who frequently clashed with Maduro's mentor and predecessor Hugo Chavez, will take office Tuesday.
"This is going to be sold however the government wants to spin it," said Rocio San Miguel, president of watchdog group Control Ciudadano. "It's an excellent distraction to the grave political and social crisis that Venezuelans are living through."
U.S. President Donald Trump was briefed on the incident, the White House said. On Sunday, John Bolton, Trump's national security adviser, said on Fox News that "unequivocally, there is no U.S. government involvement in this at all."
Maduro, who was re-elected in May in a highly questioned election to serve a second six-year term, has led the formerly wealthy petrostate into a limbo of corruption and sanctions.
Investors have largely given up hope on getting paid any time soon on Venezuela's billions of dollars in defaulted bonds, and multinational companies have either pulled out during the past decade, been nationalized or reduced their operations.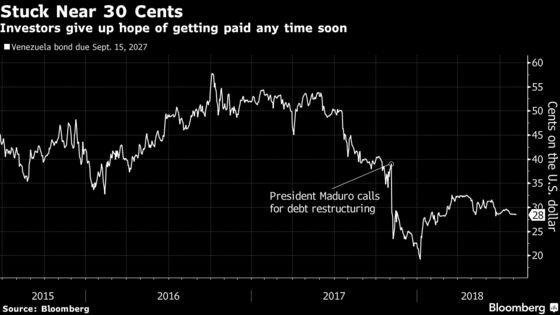 In 2017, Maduro survived months of furious and deadly protests, but opposition parties have been unable to topple him in the streets or at the ballot box. His power is increasingly dependent on the armed forces, which have been taking an ever-more-prominent role in the nation's economy and institutions.
Rumors of plots against the leader are constant, and the government often says it has uncovered threats. In January, a renegade cop, Oscar Perez, who took up arms against the ruling socialist government and hijacked a helicopter, was killed in a raid by security forces.
Soldados de Franela, which claimed responsibility on social media for the weekend attack, said the group had demonstrated Maduro's vulnerability, and that success was a matter of time. The authenticity of the claim couldn't be verified, and the group, named after the shirts they wear on their heads to hide their identity, had been previously unknown.
"The only thing that Saturday made clear is the government's own problems in security," said Carlos Romero, a political scientist at the Central University of Venezuela in Caracas.