A 1,400% Stock Jump Shows Merger Winds Are Blowing in Brazil Telecom
(Bloomberg) -- Speculation about consolidation is a staple in Brazil's highly competitive, fast-growing telecom sector. Now, conditions may be ripe for action.
NII Holdings Inc. has skyrocketed this year in New York trading, signaling that investors are stepping up their M&A bets as two favorite targets finish actions that could pave the way for deals. Nextel Telecomunicacoes Ltda., NII's Brazilian unit, concluded a debt restructuring and is in better shape to be acquired as the country slowly exits a long recession. The same can be said for Oi SA, the country's largest fixed-phone operator, which is wrapping up the largest debt restructuring in Brazil's history.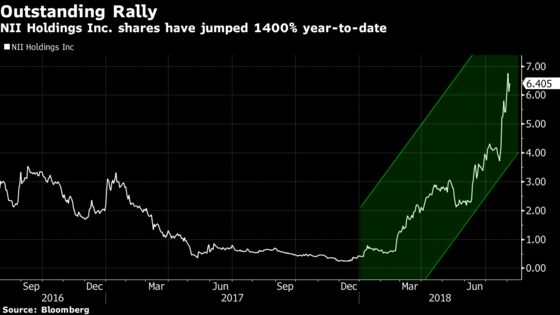 NII's stock surged 1,387 percent year-to-date through Friday, the second-best performance in the Russell 2000 index. The company hired Rothschild & Co. to organize the sale of its 70 percent stake in Nextel Telecomunicacoes, Reuters reported on June 28, citing people with knowledge of the matter. Investors will likely look to Tuesday's second-quarter report and conference call for an update on the sale process. The company in its first quarter saw total subscribers grow for the first time in more than two years.
Recent changes in leadership at Tim Participacoes SA, the Brazilian arm of Telecom Italia SPA, also seem to suggest consolidation could be on the horizon. Sami Foguel, the new chief executive officer, has little experience in the telecom sector, but plenty in dealmaking.
"Nextel Brazil would be an attractive acquisition target not only for Tim Brazil, but also for Telefonica Brazil or America Movil," said Kevin Roe, an analyst with Roe Equity Research LLC. "Nextel Brazil's unique and valuable spectrum is the primary interest for any buyer, but there are also mobile network consolidation synergies to be captured. AT&T may also have an interest given they already have a material Brazil presence in satellite TV service."
NII Chief Financial Officer Dan Freiman declined to comment in an e-mail.
Brazil's current spectrum cap, which has been a barrier for consolidation, is poised to be changed by the country's telecom regulator Anatel. The proposal for new limits is currently being analyzed by the agency, after going to public consultation, Anatel said in an e-mail responding to Bloomberg questions.
Despite NII's impressive rally, Cowen & Co. analyst Lance Vitanza says the stock remains cheap. "Should multiple bidders emerge, the price could quickly go to $20," Vitanza wrote in a July 24 report. There are no favorites for a Nextel acquisition, said Allan Nichols, an analyst at Morningstar Inc. "The only one that can't afford it is Oi."
Oi, which lost 10 percent year-to-date in Sao Paulo before today, called an extraordinary shareholders' meeting for Sept. 3 to tie up loose ends on its 64 billion-real ($17 billion) restructuring and vote for a new board, which will include former Tim CEO Rodrigo Abreu among its members.