Linde, Praxair Fall as U.S. Antitrust Demands Threaten Deal
(Bloomberg) -- Linde AG and Praxair Inc. are facing the prospect that their planned $47 billion merger could collapse for a second time after U.S. antitrust authorities made demands that could prove too painful to make the deal worthwhile.
The Federal Trade Commission indicated it wants the industrial gases companies to sell more assets before their combination can be approved, leading to a "higher probability" that disposals will exceed a self-imposed limit, Munich-based Linde said in a statement. The tendered shares fell as much as 10 percent on Monday, the biggest drop since they began trading nearly a year ago.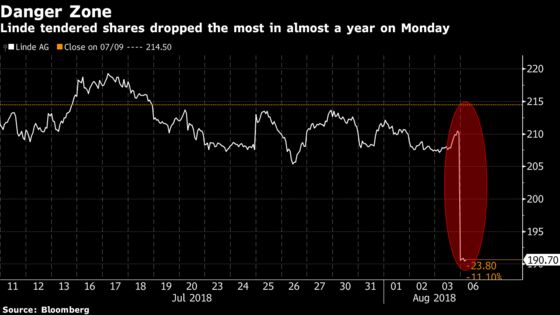 The risk is "very high" that the companies will miss their Oct. 24 deadline to push through the agreement, Kepler Cheuvreux analysts wrote in a note.
Linde and Praxair have been working toward a tie up for at least two years that would create the world's biggest supplier of industrial gases to rival No. 1 Air Liquide SA of France. The companies' products like oxygen and nitrogen are widely used in factories, hospitals and greenhouses. Their first attempt to combine was scuttled in 2016 by German unions fearing job cuts and a loss of influence. With the Oct. 24 deadline looming, time is running out for Linde and Praxair to close antitrust related asset sales they have already announced and find a way to make the deal work.
"Here's the question: Can Praxair and Linde agree and execute divestitures sufficiently high to satisfy regulators, yet sufficiently low to preserve the financial logic of the combination?" Kevin McCarthy, an analyst at Vertical Research Partners LLC, said in an email.
Jason Miner, a Bloomberg Intelligence analyst, said it's possible.
"I doubt it means the end of the merger because management is very persuaded that the merger will bring advantages," Miner said. "But it sure could challenge some synergies.
The companies' agreed to limits on the assets they would be willing to jettison in return for regulatory clearance. Under the deal, the units to be sold must have annual sales of less than 3.7 billion euros ($4.3 billion) or income before interest, taxes, depreciation and amortization of less than 1.1 billion euros. The latest requests from regulators are "more onerous than previously expected," Linde said. Kepler analysts said the threshold is not in itself a "deal-breaker."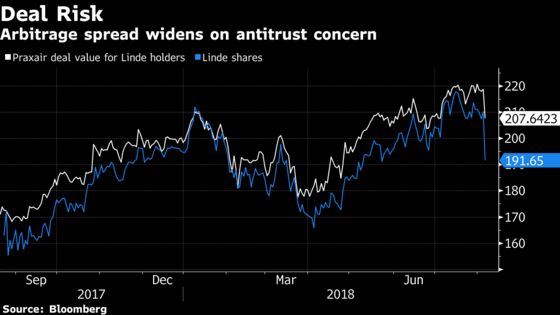 The companies have already been striking agreements to shed assets. Last month, Linde announced the sale of North American businesses with combined 2017 revenue of about $1.7 billion. A few days earlier, Linde and Praxair agreed to sell a raft of industrial-gas plants in Europe to a Japanese competitor. They indicated at the time that additional sales may be necessary to get final approval from regulators.
"Linde was informed today that the U.S. Federal Trade Commission has expressed expectations with regard to additional divestiture commitments and the respective buyers that are seen as necessary" to approve the deal, Linde said in the statement Sunday. "The talks with the FTC about the necessary divestiture commitments are being continued with the aim to achieve an acceptable outcome for all involved."
Linde shares fell 9.5 percent to 190 euros at 11:28 a.m. in Frankfurt, giving a market value of 35 billion euros. Praxair's stock fell 5 percent to $156 in trading before U.S. exchanges opened.
A spokesman for Linde declined to comment further, and Praxair couldn't be reached for comment on Sunday and early Monday.
The companies have already faced a rough ride during a European antitrust review of their deal, which would see the merged entity bear the Linde name and be listed in New York and Frankfurt. They agreed to sell a raft of assets in Europe to Taiyo Nippon Sanso Corp.
Under terms of the deal, Praxair Chief Executive Officer Steve Angel and Linde Chairman Wolfgang Reitzle will keep their titles and the board and management will come from each of the companies. The new holding company will be incorporated in Ireland and board meetings will be mostly be held in the U.K., Linde has said. Corporate functions will be split between Munich and Danbury, Connecticut, where Praxair is based.