World's Appetite for Fleece Drives Gildan Up Most Since 2009
(Bloomberg) -- It's a tough time to sell socks but luckily for Gildan Activewear Inc., there's appetite for fleece.
The maker of T-shirts and underwear reported earnings and sales that beat analysts' estimates and raised its full-year outlook. The results drove the shares up the most in more than nine years on Thursday.
Growing fleece shipments and demand for more fashionable products such as American Apparel T-shirts outweighed hurdles that included falling socks orders from retailers. The gains also helped counter rising expenses related to raw material and the political turmoil in Nicaragua, where Gildan has factories.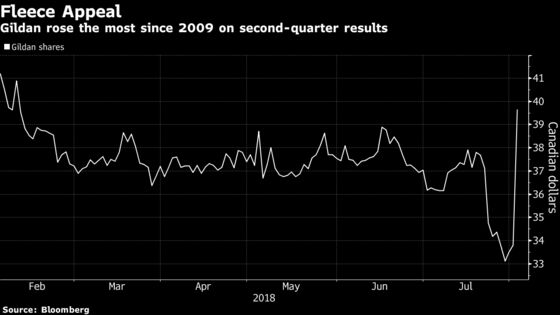 Shares of the Montreal-based company surged as much as 21 percent to C$40.93 in Toronto trading. The stock had been down 17 percent this year through Wednesday's close.
Mass merchants, feeling pressure from Amazon.com Inc. and apparel makers' own e-commerce sites, are changing strategy and putting lower-priced socks under their own brand. Gildan estimates this will push its sales of hosiery and underwear down by $85 million this year. Still, acquisitions in recent years and expanded production capacity are helping the company boost sales in other categories, with shipments outside of North America up 35 percent.
"We're well positioned'' Chief Executive Officer Glenn Chamandy told analysts on a conference call. "It reflects in terms of the growth that we have this year and we see that continuing through '19."
Gildan has built a global production chain ranging from yarn-spinning to clothes-stitching, which has enabled the company to lower costs and compete with Hanesbrands Inc. and Berkshire Hathaway Inc.'s Fruit of the Loom. From an initial focus on selling blank T-shirts and other items for wholesalers to customize, it's broadened its offer to branded apparel sold to retailers in the past few years. After buying American Apparel in an bankruptcy auction last year, it's also expanding in the fashionable end of the market.
The company's factories in Nicaragua are currently operating above full capacity despite the violent chaos that's engulfed the nation, Chamandy said. Still, it incurred some additional costs as it changed transportation options, he said.