Wall Street Weighs In as Icahn Rattles Cigna-Express Deal
(Bloomberg) -- Activist investor Carl Icahn's reported stake in Cigna Corp. is not likely to swing shareholders to block its nearly $54 billion takeout of Express Scripts Holding Corp. after yesterday's 6.3 percent drop, according to some analysts. Despite the widening spread between Express Scripts' current trading levels and the offer price jumping to 25 percent, some on Wall Street say the risk-reward for investors has shifted back in their favor.
While Icahn's track record and influence make his "anti-deal marketing campaign certainly something that needs to be watched closely," an analysis of top shareholders of each company showed that more than 50 percent of Cigna investors are also top holders of Express Scripts, Deutsche Bank analyst Glen Santangelo wrote.
Not all analysts are as optimistic that the deal will close, with the odds now down to no better than a coin toss. Shareholders vote on August 24.
Evercore analyst Ross Muken says Express Scripts shares could be valued anywhere from $50 to $93, depending on the course of both Icahn's activism and regulation of drug rebates.
Express Scripts shares climbed as much as 4.9 percent after Cigna Chief Executive Officer David Cordani talked up the deal during the insurer's quarterly call this morning and CNBC reported Icahn had not yet made an overture to Cigna indicating he was opposed to the deal. The CNBC report also said Icahn's stake was likely less than three million shares or an ownership of one percent or less. Cigna shares rose as much as 3.1 percent in the first 40 minutes of trading.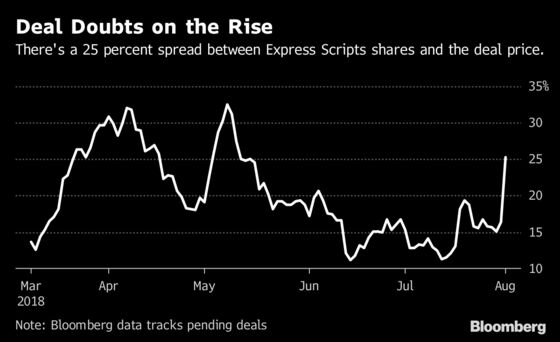 Here's what Wall Street is saying about the influence Icahn can wield:
"It is unlikely (not impossible) that Cigna shareholders would vote down the transaction," though the market "seems to take a more negative view — ESRX's ~16% spread to offer value widened to 25% on Wednesday."
"Our calculations show that current Cigna shareholders own ~84% of ESRX shares outstanding," Taylor wrote, noting that investment doesn't indicate a bearish view of Express Scripts.
"Activist investors have suggested to us that it will be difficult to mount a successful campaign with just three weeks to the vote during a seasonally slow month," but Icahn "makes a few points that could resonate with the bears in the near term."
Rates Cigna overweight, price target $245.
Muken drops his Express Scripts standalone value to $61.50 from $67, or about a 17% downside risk from yesterday's close. "We would note this does not factor in a material change to the rebate environment, which by our estimate could pressure shares down to $50 or below."
"Deal odds move to 50/50 given the introduction of an activist in CI shares, which places our PF (pro forma) price target now to $77.50 or modestly above current levels. In the event a deal is approved, we see shares trading to $93, based on our CI price target."
"All-in we see risk reward as balanced currently, but that could potentially skew negatively if one of the proxy groups decided to side with the activist (which given our current view of the risk profile of the PBM landscape is completely plausible as an outcome)."
Express Scripts rated in-line, price target $77.50.
Deutsche Bank, Glen Santangelo
Sees positive risk/reward heading into the shareholder vote after the reports of Icahn's opposition "had a significant impact on an already wide deal spread" with just 23 days until the shareholder vote.
Santangelo is "not surprised to see some open opposition to the deal, as the strategic rationale, risk profile and valuation of the transaction certainly raises questions," but "it only matters what 50.1% of the CI shareholders think as it relates to the upcoming vote on August 24th."
While there are sure "to be bumps in the road over the coming week, we believe relatively non-existent opposition from the existing CI shareholder base (at least that we are aware of) will make it tough to overturn."
"While we believe regulatory concerns may be overblown in the near term, we do see the potential for them to scuttle the current deal in several ways."
"We believe there is now greater risk to the deal close for ESRX, as the HHS proposal to remove the safe harbor for rebates along with the pressure from Icahn may pressure shareholders to vote down the merger. We believe the proposed HHS rule could represent material adverse change to the merger if it is materially negative to the profit model for ESRX."
"The risk associated with the HHS proposal could cause proxy advisory firms to recommend voting the deal down," Hill wrote, creating "another risk to the shareholder vote." He said that a "vote against the deal could create opportunity for CI to recut the deal at a lower price, limiting upside from current levels."
Express Scripts maintained at outperform, price target $90, standalone value in the event of a deal break $55.