Univision's Saban Wants to Hand Chairman Post to Tribune Media Chief
(Bloomberg) -- Billionaire Haim Saban is considering stepping down as chairman of Univision Holdings Inc. and has told associates he wants Peter M. Kern to take his place at the Spanish-language media company, people familiar with the matter said.
Kern, the chief executive officer of local TV station owner Tribune Media Co., is already advising Univision CEO Vincent Sadusky, who replaced Randy Falco this year. Sadusky's first steps have been to cut staff and sell the former Gawker Media websites that Univision acquired out of bankruptcy.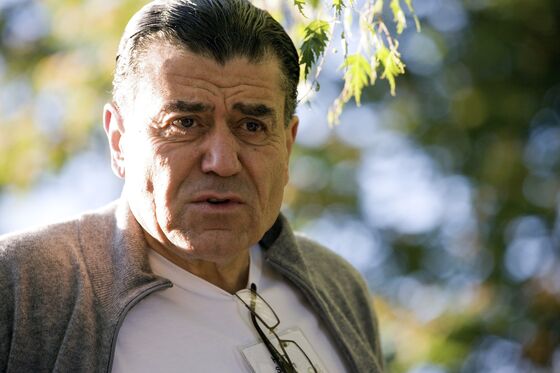 Saban has no immediate plans to step down from the board, in part because his succession has been complicated by regulators' resistance to Tribune's sale to Sinclair Broadcast Group Inc. Saban had assumed Sinclair's purchase of Tribune would be approved soon, allowing Kern to take over as Univision's chairman, said one of the people, who asked not to be identified because the matter was private.
Instead, the Federal Communications Commission referred the transaction for further review in July, perhaps delaying the deal long enough to kill it. The FCC said Sinclair may have misled officials about the nature of some of its proposed divestitures in the Tribune deal and referred the case to an administrative hearing officer.
Now, Kern's future with Univision is unclear. It would be unusual for someone to serve as the chief executive of one company and chairman of another in the same industry.
Univision declined to comment beyond saying Kern is advising Sadusky. Kern, who has been Tribune's CEO since March 2017, didn't respond to a request for comment. Saban declined to comment through a spokeswoman.
Univision is working with advisers to sell its digital properties and its owners, including Saban's investment firm, are interested in offloading the rest of the business, according to people familiar with that matter, who also asked not to be identified because the matter is private.
Saban Capital Group, along with Madison Dearborn Partners, Providence Equity Partners, TPG and Thomas H. Lee Partners, have owned Univision for almost 12 years. That's double the average holding period for a typical private equity investment, and the firms are likely to be focused on returning capital to investors in funds that are now largely exited.
While they are open to separate offers for radio and TV assets, the firms prefer to sell them as a package, the people said. Potential buyers including Sinclair and Nexstar Media Group Inc. have already expressed interest in some Univision assets, the people said.
The former Gawker properties that Univision is considering selling include English-language websites such as Gizmodo, Deadspin and Jezebel. Univision bought the sites for $135 million in 2016.
A representative for Nexstar said the company doesn't comment on speculation or rumors regarding its business. Sinclair didn't respond to requests for comment.
Saban and the group of private equity investors bought Univision for $12.3 billion in 2007, when it was solely a Spanish-language operation. The company has since become a bilingual platform aimed increasingly at young, multi-ethnic viewers.
In March, Univision scrapped plans for an initial public offering, leaving the company's backers without an exit strategy and facing Falco's retirement. The effort to go public had been part of an effort to reduce $8.8 billion in net debt from the buyout.
Univision considered and rejected a $13 billion-plus merger offer from Discovery Communications Inc. last year. Discovery, part of media magnate John Malone's investment portfolio, went on to buy Scripps Networks Interactive Inc.
Saban, a 73-year-old Israeli-American, is one of Hollywood's most powerful people. He's been looking to reducing his role at Univision, one of the people said.
Saban's replacement by Kern, 51, would further signal the changing of the guard across the media industry.
In July, Malone stepped down from the board of Lions Gate Entertainment Corp., a TV and film studio, as well as from cable-TV giant Charter Communications Inc. Rupert Murdoch is selling much of his 21st Century Fox empire to Walt Disney Co., while Sumner Redstone, whose National Amusements Inc. controls CBS Corp. and Viacom Inc., is in failing health.
Univision has been slimming down its operations as it faces tougher competition from Comcast Corp.'s Telemundo and pays higher fees to Mexican broadcaster Grupo Televisa SAB for programming. Also, the network's ratings declined as traditional telenovelas become less popular. The New York-based company plans to cut more than $100 million in expenses this year.