There's Danger in the Air as Earnings Beats Expire: Taking Stock
(Bloomberg) -- The tape has been breaking down all morning, with the e-minis down close to 20 handles and the cash index poised to open at its lowest level in almost three weeks.
If we can't bounce back above 2,800 on the S&P 500 (a level that has successfully served as recent support), that would make it five of the last six sessions in the red and an ominous sign as we meander through the August doldrums of a market more focused on trade wars instead of the strength of corporate earnings.
The culprits for the move appear to be severalfold: 1) Risk-off moves in global equity markets with Europe's Stoxx 600 down nearly 1% and the Shanghai composite falling 2% for its worst day in exactly one month, 2) Weakness in the European bank stocks as Barclays reversed nearly 6% from its peak despite solid trading revenues and positive comments from CEO Jes Staley, 3) trade war tensions ratcheting up as China vows to retaliate over Trump's latest tariff threat, though this was more or less expected given the recent back-and-forth between the two sides, 4) emerging market jitters as Turkey's markets "plunge into the unknown" following sanction.
The biggest pre-market decliners appear to be the trade-related names, with Caterpillar and Boeing both down more than 1% (follows yesterday's underperformance once the Trump threats came to light), and the large-cap tech stocks, with most of the FAANGs trading down ~1% and the big chip stocks like AMD and Nvidia faring even worse.
Nearly three-quarters of the S&P 500 has reported up to this moment with ~85% earnings beats. Results since Wednesday's close have a boatload of implications for trading today, for example:
Tesla squeezing higher ~8.5% on a well-received cash burn print, better guidance, and a more subdued and apologetic Musk, but capital raise questions still loom (though Musk did confirm there was no regulatory notice precluding the company from doing said raise)
A brutal Wednesday for gaming stocks after Caesars' weak revpar forecast got worse after Wynn dropped as much as ~10% after the bell on a big Macau-led miss
Another ugly number in the restaurant space, with Red Robin sinking over 20% after recent whiffs by Cheesecake Factory, Texas Roadhouse, and Denny's -- reports tonight include Shake Shack, Wingstop, Bojangles' and El Pollo Loco
Mixed bag for cybersecurity stocks, with FireEye tumbling over 4% versus Fortinet shooting up nearly 10%, both on results
Online travel names may feel a smidge of pressure after TripAdvisor -10% didn't impress high expectations, especially after Expedia's recent smash beat -- Booking Holdings reports next Wednesday
Fertilizer stocks are looking to pop after big numbers from Nutrien (the old Potash Corp. & Agrium) +5.9% and CF Industries +4.7% -- Mosaic is out Monday
Protein peers like Tyson and Sanderson Farms may see downticks thanks to Pilgrim's Pride coming in with an EPS print below the lowest estimate on the Street; the stock dropped 7% last night and we'll see what management has to say for itself on the 9am call
Glucose/diabetes-related medtech companies, like Tandem Diabetes or Insulet, may catch a bid after DexCom surges ~20% on a strong report
Tech Selling Took a Breather
One of the most important developments from Wednesday's session was the fact that strength in tech finally help up after an earnings report from one of the FAANGs -- Apple avoided a Facebook-like blowup and closed up almost 6% with momentum bulls salivating with each uptick towards $1 trillion market cap territory -- and the ML FANG index, which excludes Apple, notched its second day in the green after the three-day Facebook-induced breakdown. But as mentioned above, the selling fatigue could be short-lived given how this morning is shaping up.
Regardless, several market participants are out pumping the space this morning, including Bernstein strategist Noah Weisberger, who says the fundamental story still looks supportive (and not just for tech, adding "We think that it is too early to call the end of the cyclical rally") while Credit Suisse's Jonathon Golub says investors are underestimating the revenue upside for tech and Internet retail companies: "While the group represents only 14% of S&P 500 sales, it is contributing 41% of the market's earnings growth."
Another development appears to be the renewed focus on the 10-year yield and its move back above the 3.00% level (up ~15 bps in nearly two weeks) thanks to the volatility in Japanese government bonds. The yield curve widened from 11-year low as a result.
The will-it-or-won't-it-break-above-3% debate was a scorching hot topic for the equities crowd from April to May, even more so when Jamie Dimon and Michael Hasenstab started throwing out scenarios with a four handle, and it should heat up again if the move sticks. In this scenario, I'd expect to see a return to the rotation trade of buying banks and selling the yield proxies, like the utilities and the REITs, a shift that should will drive those strategists who've reallocated sector preferences towards a more defensive stance up a wall.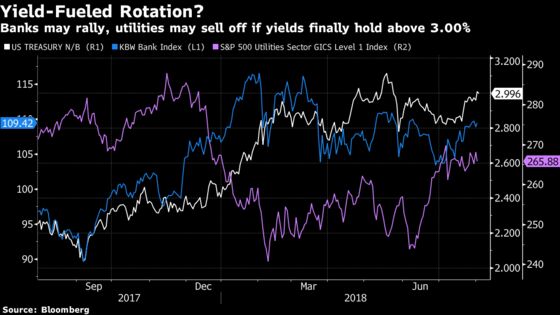 Banks have been on a nice run since JPMorgan kicked off earnings for the group -- BKX up 3.6% vs the S&P 500 up 0.5% in that time span, and the index is now flirting with the top end of its recent range of 104-110 that dates back to mid-March -- interestingly enough, the biggest bank ETF (XLF) had its largest outflow since January on Tuesday, a day before the FOMC meeting.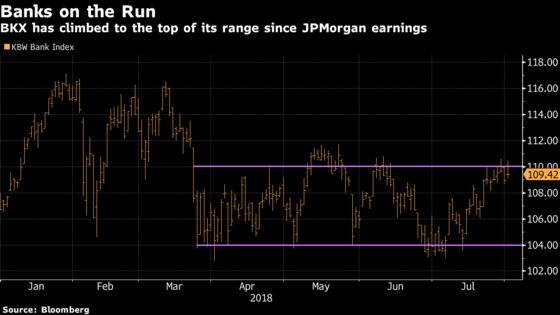 Trade Proxies Bear the Brunt
And lastly, something that needs monitoring is the relative underperformance of the industrials sector since the latest Trump tariff threat hit the wires (the move to 25% form 10% on $200 billion of Chinese goods).
Those names that are heavily tied to trade tensions have since shown weakness, as expected, with Caterpillar tumbling nearly 4% yesterday (erasing all gains since the beat-and-raise quarter on Monday that featured generally sanguine commentary about the machinery cycle), Boeing sliding 1% and the autos also bogged down throughout the day (monthly sales numbers didn't impress either, which doesn't help the case for the group).
Here's some of the more interesting takes from the Tesla notes:
Oppenheimer's Colin Rusch upgrades TSLA to an outperform after keeping the stock at an equivalent hold for more than two years: "We believe GM performance on Model 3 will carry the stock over the next 12+ months."
Morgan Stanley's Adam Jonas sounds skeptical on the outlook comments and says there is a need for further explanation from the company: "The statement that they expect to generate positive cash 'including operating cash inflows and capital expenditures, as well as the normal inflow of cash received from non-recourse financing activities on leased vehicles and solar products' leaves a rather large range of outcomes for how free cash is actually created"
Goldman's David Tamberrino, a bear, says 2Q was a positive step, but the shares are still overvalued and there are still many uncertainties out there, including the sustainability of positive free cash flow
Loup Ventures' Gene Munster, a bull, says the "run out of cash" concern still exists, though likely not for long if the company turns a profit shortly, and does point to one negative from the call: Musk calling for 2020 total output of 750k-1m vehicles versus a prior target of 1m
Goldman takes a closer look at FB's earnings after talking to the company's partners in the U.S. and Europe, suggesting that there are no material changes in demand to ad budgets related to GDPR or other data privacy initiatives. "It appears in our view that 2Q18 faced a lengthening of sales cycles if you will, as Facebook focused on protecting its platform," the analyst added.
Morgan Stanley initiated the footwear sector, making their biggest calls on top pick Nike ("longer runway for outperformance than appreciated and EPS growth poised to inflect") and a contrarian underweight rating on FL ("losing traction in an increasingly DTC [direct-to-consumer] world)."
BofAML double upgrades homebuilder MDC on another solid quarter and a continued positive view of the U.S. homebuilding industry.
Tick-by-Tick Guide to Today's Actionable Events
Today -- A.C.T. Class 8 truck machinery may be released (impacts CMI, PCAR, NAV)
Today -- FCC holds meeting on spectrum auction rules
7:00am -- W, APRN, YUM, AMCX, BCE, SEE, TEVA, ZTS earnings
7:30am -- PH, ICE, OZM earnings
7:45am -- MGM earnings
8:00am -- K, RCL (roughly), ARW earnings
8:00am -- DWDP, W, TEVA earnings calls
8:30am -- Initial Jobless Claims
8:30am -- TRIP, APRN, X, CI earnings calls
9:00am -- SFM earnings
9:30am -- SONO, CWK expected to start trading after the open
9:30am -- K earnings call
9:45am -- Bloomberg Consumer Comfort
10:00am -- Factory Orders, Durable Goods
10:30am -- EIA natgas storage
11:18am -- SQ CFO Sarah Friar on Bloomberg TV
11:40am -- SONO CEO Patrick Spence on Bloomberg TV
4:01pm -- WU, OTEX, CERN, MNKD earnings
4:05pm -- CBS, ATVI (roughly), ANET, DATA, GPRO, GDDY, APPN, SYMC, ATUS, CARB, TTWO, SHAK, WING, FLT, ESL, BMRN earnings
4:10pm -- MSI, SSNC, SEDG earnings
4:15pm -- ACIA (roughly), TDC, FLR, NUS, CC, EOG earnings
4:16pm -- AIG earnings
4:30pm -- CBS, ATVI, DATA, ANET, WU earnings calls; SWN (roughly) earnings
4:40pm -- MTZ (roughly) earnings
5:00pm -- ACIA, GPRO, SYMC, SHAK earnings call
7:00pm -- Trump hosts MAGA rally in Wilkes-Barre, Pennsylvania
9:45pm -- China Caixin Composite/Services PMI
Tonight -- IPOs scheduled to price: Arlo Technologies (ARLO)