Teva Plunges as U.S. Sales Drop Amid Generic Price Erosion
(Bloomberg) -- Teva Pharmaceutical Industries Ltd. plummeted the most in six months after U.S. sales fell amid price erosion for generic drugs, the company's biggest business.
The 18 percent slump in overall second-quarter sales to $4.7 billion trailed analysts' average estimate and was led by a decline in sales of copycat drugs in North America. Rapid approvals for generic medicines and consolidation of big pharma buyers continued to squeeze industry profitability for a second year.
The tough market conditions are a persistent challenge for Teva Chief Executive Officer Kare Schultz, who was brought in last year to stem losses and get the company back on a growth trajectory. Not even a rosier outlook for profits this year could offset the drag on the stock, with investors putting a greater emphasis on the company's prospects for growth in its largest market.
"A lack of new significant launches, competition, currency headwinds, portfolio optimization and a tougher time for Copaxone," Teva's multiple sclerosis drug, cloud the second half, Bloomberg Intelligence analysts Curt Wanek and Elizabeth Krutoholow said in a note.
American generic drug prices seem to be coming out of a period of an average of 15 percent decline per quarter, Schultz said in a telephone interview. Prices for the knockoff therapies in the U.S. now resemble those in Europe, a historically less profitable market, he said.
"But I can't say for certain that will remain the case," he said.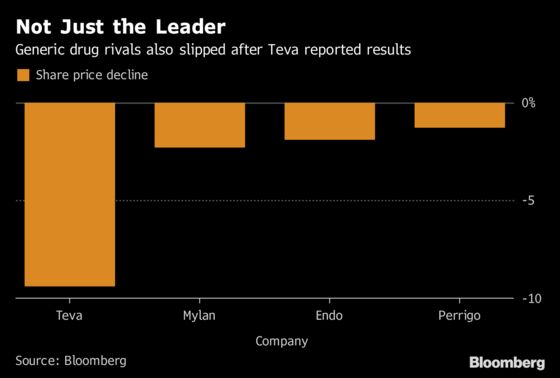 Teva's American depositary receipts fell as much as 10 percent, and other large generic drugmakers followed suit, with Mylan NV dropping as much as 2.8 percent and Endo International Plc slipping as much as 2.2 percent.
After Schultz took the reins in November, Teva warned in February that it wouldn't be able to charge as much as expected for its products, and that 2018 sales might decline as much as 18 percent from a year earlier. His moves to cut costs by $3 billion by 2019 while shedding workers and factories have buoyed the shares, which have doubled since Nov. 2.
Though the company has raised its outlook twice since February, the latest report showed that Teva's Sales of generic drugs fell by almost a third to $947 million in North America, and it's still looking for new drivers of growth as Copaxone fades.
The knockoff drug giant took on massive loans in 2016 to bolster its generic drug division, just as the bottom fell out from under the industry, and now it's stuck paying down a gargantuan debt pile. The drugmaker owes $30.2 billion to its creditors, down from $30.8 billion at the end of March.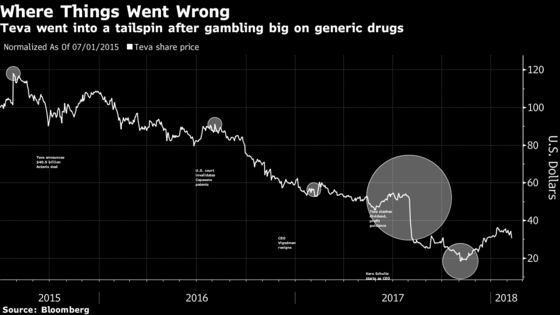 Though the biggest generic drugmakers continue to face a challenging market, the slide in prices is starting to stabilize, according to Schultz.
Profit excluding some costs fell to 78 cents in the quarter, compared with $1.02 a share a year earlier, Teva said. Analysts surveyed by Bloomberg expected 64 cents.
Earnings excluding some items for the year will be between $2.55 a share to $2.80 share, the company said in a statement. The improvement from the company's earlier forecast range of $2.40 a share to $2.65 a share is due to lower tax rates, Teva's cost-cutting plan, and profit from peripheral activity, Chief Financial Officer Michael McClellan said on a conference call with analysts.
Sales of Copaxone fell nearly 40 percent for the second quarter to $626 million, besting analysts' projection of $495 million. The drug is likely to face further losses after Mylan, one of Teva's biggest rivals, cut the price of its generic copy by 61 percent at the end of the last quarter.