The Perpetual Motion Machine Driving Tesla's Stock
(Bloomberg Opinion) -- The market has lapped up Tesla Inc.'s latest quarterly numbers, along with Elon Musk's relatively subdued performance on Wednesday's call. The stock jumped about 10 percent on Thursday morning.
The bullish narrative is that everything has changed. The cautious counter is that this has yet to show up in the actual numbers, especially where it counts: liquidity.
While revenue has soared and Tesla's cash burn was better than expected in the quarter — a mere $740 million — net losses hit their highest level ever. And that less-severe cash burn owed a great deal to running up credit with suppliers and cutting back on capital expenditure (see this for my take on the figures). In short, it's pretty much what we've seen in earlier quarters.
What changed was the tone. Besides Musk's reversion to more normal behavior, the narrative of "production hell" has given way to robust optimism. In particular, Tesla doubled down on its guidance that it is on the cusp of self-funding. Here's Musk and CFO Deepak Ahuja answering a question about this on the call:
Musk: We do not — we will not be raising any equity at any point, at least that's — I have no expectation of doing so, do not plan to do so … And we certainly could raise money, but I think we don't need to and we — yeah, I think, it's better to — it is better discipline not to.

Ahuja: Yeah, we're executing on an operating plan that keeps us sufficiently self-funded despite our capex needs and our debts maturing, and still keep a very healthy balance on our balance sheet.
In other words, as Tesla finally starts producing several thousand Model 3s a week, sustainably, and keeps spending in check, it will approach something like being self-funding (I say "something like" because Tesla's definition of "positive cash" appears to include proceeds from asset-backed financing).
Powerful stuff. But if you're paying $300-plus for Tesla's stock because management promise self-funding is just around the corner, then you're really not doing anything different from the past. The company has been holding out this prospect since at least early 2012; during that time there have been several equity and bond issues.
Such belief in the face of contrary numbers masks Tesla's vulnerability in a fundamental way. As I wrote here, the company's liquidity ratios are very weak.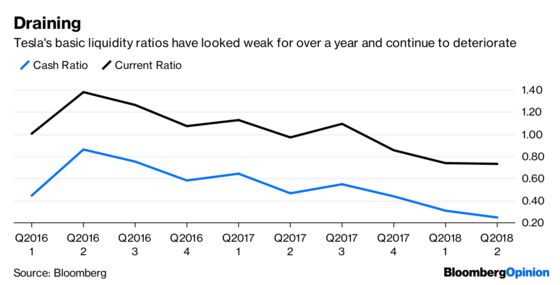 A more holistic view is provided by the Altman Z-Score, a weighted average of five ratios where a score of less than 1.8 can indicate a high risk of bankruptcy. The ratios factor in the size of the balance sheet, profitability, revenue, working capital and, of course, liabilities. Here is Tesla's score since early 2016: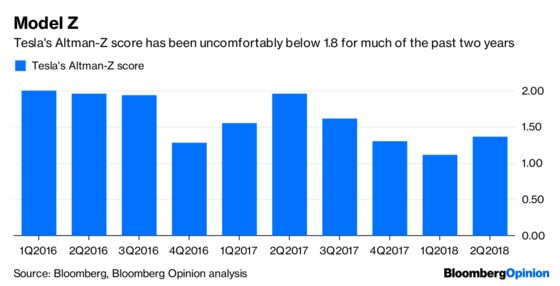 That uptick in the latest quarter doesn't get the score back into safe territory but, to a Tesla bull, would no doubt strengthen the narrative of the company having reached a turning point. But that isn't so when you break down the score into its constituent parts: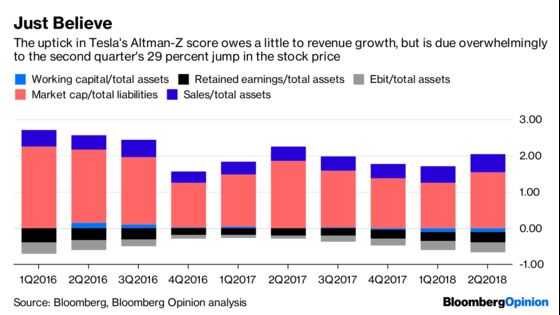 Notice that, even as the increase in the market cap pulled up the score overall, ratios around working capital, earnings and operating profits kept falling further into negative territory — and this despite huge growth in sales. Another thing to bear in mind is that the contribution from the market cap ratio has been shrinking, even as the absolute market cap increased by 89 percent between March 2016 and June 2018. Why? Because total liabilities jumped by 175 percent.
It is a head-scratcher as to why Tesla hasn't simply capitalized on investors' enthusiasm to raise more money and ease the strains on its balance sheet. Selling just 5 percent of equity would raise roughly $2.7 billion, more than doubling cash on hand. It's not like investors would appear to mind: The share count has risen by almost 5 percent since early 2017 through equity-based compensation anyway.
Leaving that question aside, though, the breakdown of the Altman-Z score really demonstrates the contradictions in Tesla's valuation.
Bulls don't worry about Tesla's deteriorating liquidity in part because the market cap provides a buffer, which prevents liquidity concerns impinging on that market cap, in a masterful contraption of circular logic. The valuation also rests on expectations of high growth and market dominance extending far into the future, even as Tesla's cutbacks in capex (in order to conserve cash) undercut the foundations of those expectations. 
Could Tesla force its way through without issuing equity and avoiding a liquidity crunch? Perhaps. Just remember that sheer belief in this outcome is as central to the investment case today as it was yesterday.
This column does not necessarily reflect the opinion of the editorial board or Bloomberg LP and its owners.
Liam Denning is a Bloomberg Opinion columnist covering energy, mining and commodities. He previously was editor of the Wall Street Journal's Heard on the Street column and wrote for the Financial Times' Lex column. He was also an investment banker.