Tesla Climbs as Bulls Cheer With 'Inflection Point' in Sight
(Bloomberg) -- At last, Tesla Inc. bulls are seeing some sign of stability.
The electric vehicle maker impressed analysts on Wednesday with better-than-expected margins on its Model 3 sedan, a lower cash burn rate and a reaffirmed promise that it would be able to turn a profit in the remaining quarters of the year. To top it off, Chief Executive Officer Elon Musk, whose recent erratic behavior caused some concern among investors, apologized for his "bad manners," a sign that many took as a step in the right direction.
While questions still remain about demand for the company's cars -- especially its new Model 3 -- as well as lingering production issues and the potential need to raise money, analysts mostly believe the outlook for Tesla is improving. The shares of the company jumped as much as 11 percent at 9:55 a.m. New York time to its highest intraday price since July 2, when questions about the Model 3's sustainability overshadowed the company hitting its production goal.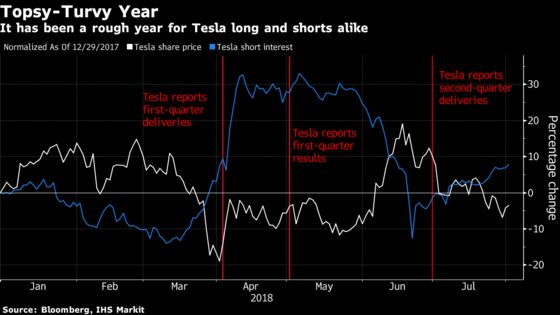 Here is a round up of analysts' commentary after Wednesday's results and call.
Rusch upgraded the stock to outperform from neutral, and set a price target of $385.
"With higher volumes and slower spending, we believe Tesla has reached a critical inflection point in its development."
"While we have been cautious on Model 3 ramp, we believe gross margin performance on Model 3 will carry the stock over the next 12+ months."
"We expect bearish arguments now to focus on limited potential for Model 3 volume at higher price levels."
"We note that despite some recent price pressure, Model S and X average selling prices have remained at relatively elevated levels. We would not be surprised to see a similar scenario play out for Model 3."
"Tesla announced the most common vehicle trade-ins for the Model 3 are the Toyota Prius, BMW 3 Series, Honda Accord, Honda Civic and Nissan Leaf, which we think supports our belief the total addressable market for the Model 3 may be underestimated."
"Tesla expects to achieve positive cash flow and GAAP profitability in second half of 2018, which we believe would be a significant catalyst for the stock."
Kallo rates the stock outperform with a price target of $411.
Consumer Edge, James Albertine
"It was appropriate for CEO Elon Musk to make amends with the analyst community on yesterday's call, which helps to clear the air and refocus the market on business fundamentals."
"Tesla continues to make progress on its promise to be profitable and cash flow positive in third quarter, but we do expect the debate will remain heated."
Albertine rates Tesla overweight with a $385 price target.
New Street Research, Pierre Ferragu
"In coming quarters, we expect controversies to shift towards sizing the demand potential for Tesla and the sustainability of its competitive advantages. This will hurt short theses and drive the stock to new levels."
"The number of Model 3s Tesla can produce is the object of endless debates, analysis and speculations. Our perspective is that it is unlikely to be a major driver for the stock on a 1- to 2-year horizon."
"Our analysis suggests consensus expectations for 2019 are very safe, while we don't expect 2018 numbers to matter much."
Ferragu recommends buying the stock, and has a price target of $530.
Morgan Stanley, Adam Jonas
Demand growth is "materially better than expected but still largely based on Tesla's expectations from here. Tesla's Model 3 volume forecast is far higher than what we have modeled while S and X guidance is modestly higher."
Cash consumption was "better than expected, but questions remain about sustainability and what measures were taken to achieve it."
Jonas rates Tesla equal-weight, with a price target of $291.
Evercore ISI, George Galliers
"After three quarters where investors have been in the dark with respect to estimating Model 3 volumes and margins, second quarter felt like there might finally be some light at the end of the tunnel."
"Come third quarter, we may even be able to see the end of the tunnel, or Elon's 'Production Hell."'
Has increased confidence "around Model 3 gross margin expansion in coming quarters given second quarter's implied gross margin."
"We believe Tesla can be profitable at the Ebitda line at third quarter and likely will be profitable at the EPS line by fourth quarter. We expect to see 10 percent to 20 percent positive gross profit revisions for 2018 and 0 percent to 5 percent for 2019 and 2020."
Galliers rates the stock in line, price target $301.
Bernstein, Toni Sacconaghi
"We now model Tesla to achieve non-GAAP profitability in third quarter and fourth quarter, on the back of 13 percent Model 3 gross margins in third quarter, flat operating expenses sequentially, and a 15-day improvement in the cash conversion cycle."
"That said, it remains unclear to us that any of this constitutes proof of Tesla's long-term profitability. The high Model 3 average selling prices expected for second-half of 2018 will invariably be temporary, and moreover, we cannot help but worry that Tesla is unnecessarily 'starving' itself of operating expenses to meet somewhat arbitrary near-term profitability targets."
Sacconaghi has a market-perform rating and price target $265.
"There seems to be more ammo for bulls than bears in commentary."
"Musk reiterated his 2020 1 million vehicle goal, then hedged calling it 500,000 to 1 million. We'd say that's a big revision, but few believed the 1 million target to begin with."
Spak rates Tesla sector perform, price target $315.
Jefferies, Philippe Houchois
"We expect the stock to remain controversial but management adopting a less confrontational style should help investors revisit the investment case."
"Even in a scenario of positive second-half free cash flow, we would expect Tesla to raise capital in coming quarters to sustain product and capacity development or risk taming growth."
Houchois recommends holding Tesla and carries a $250 price target.
"Tesla shares likely to trade up following a more humble, conciliatory call, with management continuing to aim for cash flow and GAAP profitability in third quarter plus reiterating it will not raise equity."
"The key question is why are the ambitious targets any more believable today with so many missteps in the past. Management did little on the call to refute the concerns."
"We question the demand for the Model 3 in a post-tax credit environment. We believe customers waiting for the $35,000 version of the Model 3 are subject to high degrees of price sensitivity relative to customers in the mid-sized premium sedan market."
Osborne rates the stock underperform, price target $200.
For more on Tesla, check out the Decrypted podcast: