Tech Tantrum Quiets as Apple Climbs and Square, Wayfair Rebound
(Bloomberg) -- Three days do not a recovery make but what looked like the makings of a massacre in technology earlier this week is showing signs of petering out Thursday.
Front and center is Apple Inc., whose almost 9 percent rally since Monday has it knocking on the door of a $1 trillion valuation. Also buttressing sentiment were big recoveries in a handful of companies that just reported earnings -- Square Inc. and Wayfair Inc., most notably.
Apple's strength since releasing quarterly results that beat estimates is quieting the market bears who saw last week's flop in Facebook Inc. as a sign the high-multiple industry had reached its peak.
"Apple is responsible for the entire market cap gain of the tech sector today," said Michael O'Rourke, chief market strategist at JonesTrading. "The Apple bulls want to get the stock to $1 trillion and feel they can on the back of the earnings report."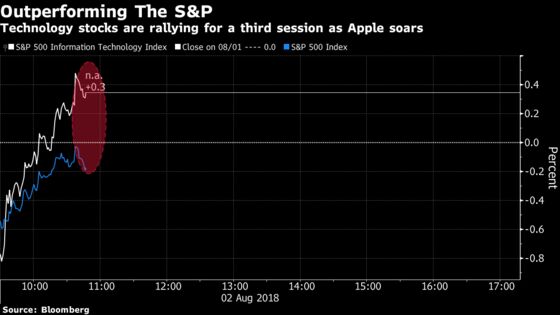 The S&P 500 Information Technology Index is up 0.4 percent after falling as much as 0.8 percent earlier in the session. The recent three-day slide in technology stocks is likely to "prove short-lived and driven by idiosyncratic concerns," Bernstein strategists including Noah Weisberger wrote in a note on Thursday.
Apple, the biggest contributor to the gauge's rally, is up as much as 2.5 percent to $206.58. To surpass the $1 trillion milestone, it needs to rise to $207.0425 a share.
But it's not just the iPhone maker that's on the rise. Square reversed early-morning losses to climb more than 6 percent while Wayfair saw a similar move prior to the opening bell. Meanwhile, Tesla Inc. soared as much as 11 percent after its earnings report.