Puerto Rico Power Company CEO Expects Privatization in Two Years
(Bloomberg) -- The newest leader at Puerto Rico's bankrupt power utility only started last week, but he's already eying the exit door.
Jose Ortiz, an electrical engineer who ran the island's water and sewer utility, said in an interview that he's aiming to be out of the job in two years as the government-owned Puerto Rico Electric Power Authority successfully sells off much of its operations and slashes its $9 billion of debt. The bankrupt utility's bonds have rallied since Monday's announcement that it reached a preliminary restructuring deal with some major creditors, a step that the head of Puerto Rico's federal oversight board said could hasten its privatization.
"My expectation is to be out of Prepa in two years," Ortiz said in a telephone interview. "We have to move forward with the transition."
The power company was heavily damaged by Hurricane Maria, exaggerating the financial strains that had already left it struggling with its debts for nearly four years. The system has suffered from mismanagement and neglect, resulting in a power grid that was heavily in need of modernization and vulnerable when last year's storm struck.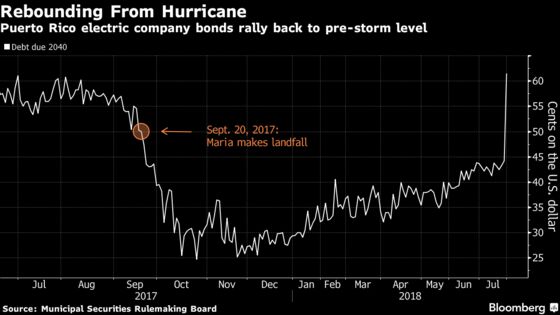 Ortiz became the chief executive officer last month, capping a period of management turmoil over the past year. The utility has gone through five other CEOs since November, including one who quit before he started amid an outcry over his pay.
Privatization is seen as a way to modernize a system that relies on oil to produce electricity and has put off needed maintenance work. The goal is for electricity rates -- now at about 21.5 cents per kilowatt hour for residents -- to fall below 20 cents, Ortiz said.
That can happen because new generators consume 30 percent less oil than those the island currently uses, while natural-gas plants would cut costs by 50 percent, Ortiz said. The utility plans to contract with companies to run its transmission and distribution system and sell off its generation assets.
"You have the luxury to plug in a decent profit and still pass an incredible amount of savings to the people of Puerto Rico," Ortiz said
Prepa still needs to reach a definitive agreement to lower its debts, and it's uncertain how much it could raise by selling its assets. While the agency reached a deal with a key group of bondholders, it still needs insurers, fuel-line lenders and other debt owners to sign on. A bankruptcy court judge would also have to approve any debt-cutting plan.
But the progress was hailed by investors, who pushed up prices of its bonds. Debt maturing in 2040 soared 36 percent this week to average of 59.2 cents on the dollar Thursday from 43.4 cents on Monday.
While Puerto Rico lawmakers have exerted influence over Prepa's operations and governors have routinely filled top management positions, Ortiz said he doesn't expect politics to intrude on his work. He has worked for four governors and under both of the island's political parties.
"I know that those things happen, but I don't hesitate to fire whoever is in the way of getting the best service to Puerto Rico," Ortiz said.