Oil Bounces From One-Month Low as U.S. Supply Hub Seen Draining
(Bloomberg) -- Oil recovered from the lowest level in more than a month amid signs the supply drain from the biggest U.S. supply hub will continue and heightened geopolitical tension.
Futures rose 1.9 percent after a Genscape report was said to show Cushing, Oklahoma, inventories sank 1.1 million barrels from Friday to Tuesday. The rally was further boosted when U.S. government officials told Reuters that Iran plans to hold a military exercise in the Strait of Hormuz in the coming days. Futures touched the lowest since June 22 earlier after reports that OPEC and Russia boosted production.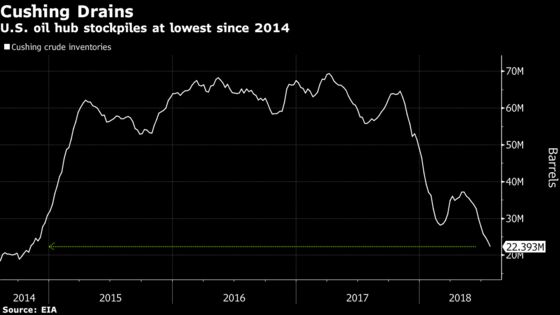 "This is another wake-up call that reminds us that demand is strong," said Phil Flynn, senior market analyst for Price Futures Group Inc. "That's a pretty big draw. It turned the market around."
U.S. government data Wednesday showed a surprise gain in nationwide stockpiles. Earlier, the Organization of Petroleum Exporting Countries's July output climbed as Saudi Arabia pumped near-record volumes while Russia boosted production to levels not seen since it joined the cartel in a coordinated cut in January 2017.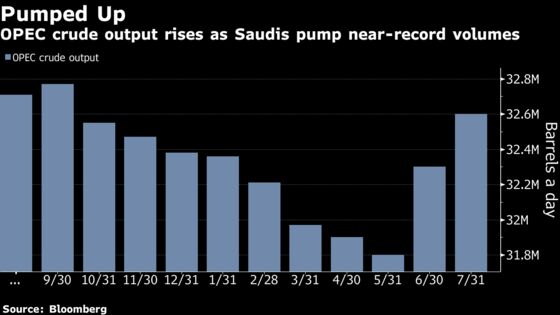 The draw from Cushing serves as a reminder of crimped supply from Suncor Energy Inc.'s Syncrude facility, analysts said.
"The Cushing situation is becoming a bigger and bigger concern for the market," said John Kilduff, founding partner for Again Capital LLC. "When we get these reports it's a reminder of the big problems we have with respect to Cushing. It's very bullish, despite all the other production efforts going on."
Meanwhile, Iran's planned military exercise is renewing concerns that the country could block the Strait of Hormuz, a key waterway for oil shipments, in retaliation to U.S. policy. The exercise shows Iran may not be willing to back down, further supporting the crude rally, said Phil Streible, senior commodity broker for RJ O'Brien & Associates LLC.
West Texas Intermediate crude for September delivery rose $1.30 to settle at $68.96 a barrel on the New York Mercantile Exchange. Total volume traded Thursday was about 28 percent below the 100-day average.
Brent for October settlement gained $1.06 to settle at $73.45 a barrel on the London-based ICE Futures Europe exchange. The global benchmark traded at a $5.79 premium to WTI for the same month.
Yet, higher supplies from OPEC and Russia are adding to concerns that a trade war between the U.S. and China could curb economic growth and limit energy demand, which last month drove crude to the biggest decline in two years. But, those measures have yet to be taken by the Trump administration, leaving traders with ambiguity.
"It's all he said she said," said Kyle Cooper, consultant for Ion Energy Group LLC. "It makes people uncomfortable, but nobody knows what the full ramifications will be. There's a lot of talk right now."
U.S. crude inventories rose 3.8 million barrels last week, according to data from the Energy Information Administration. That compares with a forecast for a 3-million-barrel decline in a Bloomberg survey of analysts.
Gasoline futures rose 1.1 percent to settle at $2.0681 per gallon.
PDVSA's 5 refineries in Venezuela reduced oil-processing and are operating at 26.7% capacity Thursday vs 30.3% on July 12, according to person with knowledge of operations.
The Trump administration, taking aim at one of former President Barack Obama's signature environmental achievements, is proposing to suspend required increases in vehicle fuel economy after 2020.
The Atlantic hurricane season may have gotten off to an early start this year, but it'll probably end with a whimper, Colorado State University forecasters estimate.