Nigeria's Ruling APC Bleeds as Key Figures Abandon Buhari
(Bloomberg) -- Nigerian leader Muhammadu Buhari lost a key supporter in his northern stronghold, a day after the senate president walked out of the ruling party amid a wave of defections to a swelling opposition movement ahead of elections in February.
The governor of northwestern Sokoto state, Aminu Tambuwal, left the All Progressives Congress Wednesday to join the People's Democratic Party, which ruled Nigeria for 16 years until Buhari's 2015 win, the governor's spokesman Abu Shekara said by phone.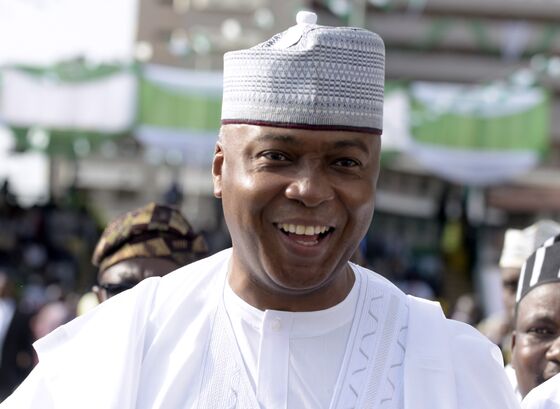 While the party ruling Africa's biggest oil producer has seen a number of key politicians shifting allegiance in the past week, Tambuwal probably dealt Buhari the biggest blow, being the first governor from his northern electoral base to leave.
"The party has brazenly turned itself into a sanctuary for the corrupt and a machine for rigging and for the rape of democracy," Tambuwal said in a statement.
President Buhari, 75, is seeking a second term after becoming the first opposition candidate since the end of military rule in 1999 to win power at the ballot box. The APC, formed after several opposition parties merged, managed to unseat the PDP, in power since 1999. But the ruling party has since struggled to unite its various personalities and bitter internal rivalries have taken a toll.
Tambuwal's realignment came less than 24 hours after Senate President Bukola Saraki and APC spokesman Bolaji Abdullahi said they were both returning to the PDP. The governors from Benue and Kwara states and more than 50 federal lawmakers have also defected, with a majority going to the PDP.
"The significance of this for the ruling party is immense," Clement Nwankwo, executive director at the Abuja-based Policy and Legal Advocacy Centre, said in reference to Saraki's defection. "If the head of the legislative arm of government leaves the ruling party for an opposition party, then it certainly has a strong weakening effect."
Buhari, a former military ruler, won the presidency on his fourth attempt. The alliance that formed the APC included a faction of the then-ruling PDP that styled itself as the "New PDP" and went on to produce the Senate President Saraki and the speaker of the House of Representatives, Yakubu Dogara. Both men emerged legislative leaders against Buhari's wish and have often gone against the party line.
"At this point Buhari still has an upper hand in the north," Cheta Nwanze, an analyst at Lagos-based risk advisory firm SBM Intelligence, said by phone. "The next few days are going to be very critical because right now a lot of talk is going to be happening."
Buhari pledged to fix a declining economy, fight corruption and improve security at a time when the jihadist group Boko Haram had killed thousands of people. While he managed to improve tax revenue, enabling him to dedicate almost 30 percent of government spending to roads, rail, ports and power, much of the population remains mired in poverty.
Buhari will begin a two-week holiday in London on Aug. 3, his spokesman, Garba Shehu, said Wednesday. The president spent a total of five months in the U.K last year for treatment of an undisclosed ailment.
A military offensive helped recover swathes of territory held by Boko Haram, but clashes between crop farmers and nomadic herdsmen have left many dead. The International Crisis Group estimated last week that more than 1,300 people were killed in the land battles between January and June.
Buhari's supporters say his fight against corruption has reduced impunity. Critics, including Saraki, say the administration has used the campaign to target political opponents. The senate president was dragged to court on allegations of hiding assets, a case in which the supreme ruled in his favor.
Rivalries between Buhari and members of his own party, most notably Saraki, have been largely responsible for the stalemate between the executive and legislature that's hobbled the government for the past few years.
"Saraki has behaved all along as if he was a member of the opposition, deliberately slowing down the progress of the APC," Information Minister Lai Mohammed told reporters Wednesday after a Cabinet meeting. "Honestly I should be worried, but I'm completely calm because it's nothing but a storm in a teacup."
The 9.1 trillion-naira ($25 billion) budget for this year wasn't signed into law until June, almost eight months after Buhari submitted it. Senators also delayed hearings on Buhari's appointees to the committee that sets monetary policy, meaning no decisions on interest rates were taken for months.
The shifts in loyalties known locally as "cash and carry" politics are common in Nigeria, where governing is seen to be less about ideology than gaining access to wealth and power in the nation of almost 200 million people.
The question now is whether the opposition coalition will be able to unite and chose a single candidate among several high profile and very ambitious personalities, including Saraki, former vice-president Atiku Abubakar and Rabiu Kwankwaso, an ex-governor of northern Kano state.
"If they just bring a candidate and there's still division, it could still be a walkover for the APC," Idayat Hassan, executive director of the Abuja-based Centre for Democracy and Development, said by phone. "It will not be a walkover if the PDP unites around a strong candidate, someone without corruption allegations around their neck, someone youthful."