New York's Muggy Night Sent Wholesale Power to Four-Year High
(Bloomberg) -- Welcome back to sticky, sultry August in New York. If you found yourself melting away in the Big Apple during Wednesday night's mugginess, you weren't alone.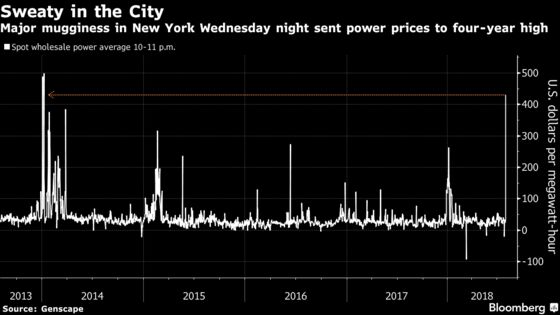 The dew point, a measure of humidity, reached into the mid-70s, a level that can only be described as "oppressive," according to Michael DuBois, an analyst at Genscape Inc. That prompted residents to run air conditioners and fans at full blast -- and leave them going late into the night when many of the region's power generators typically slow down or come offline.
That sent wholesale power prices in New York City soaring more than 13-fold between 10 p.m. and 11 p.m. from the same hour the day before. Electricity prices reached $429.70 a megawatt-hour, the highest level for that period since January 2014 and well above the average of $33.49 during the past year. Relative humidity averaged 82 percent on Wednesday in Central Park, according to the National Weather Service.