Japan's Biggest Theme Is Proving Tough to Play in Stock Market
(Bloomberg) -- Japan watchers may debate whether the central bank is reducing stimulus or strengthening it, and whether it faces a debt crisis or has effectively removed that threat. But one theme bears no disagreement: the country is running short on workers.
Bank of America Merrill Lynch called it a "mega trend that's here to stay" last year, and it's hard to argue with that. There's 62 percent more job openings than applicants -- the most since the go-go years of the early 1970s under Prime Minister Kakuei Tanaka. And Japan's working-age population is shrinking by more than half a million a year.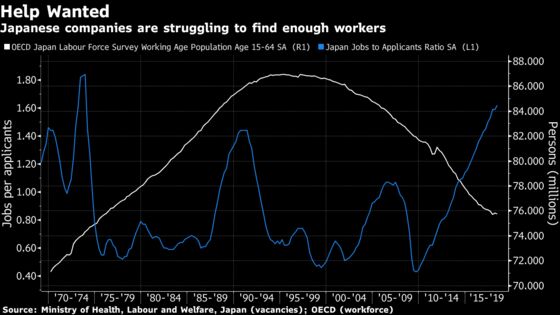 It stands to reason this shakeout should create winners and losers. Some companies will adapt better than others, deploying automation and boosting productivity so they can afford bigger pay packets to lure job applicants. Others could even go bust as they fail to keep up. But it's proving tough to translate that logic into money-winning strategies.
Bank of America, Goldman Sachs Group Inc. and Morgan Stanley all came out with calls on sectors or companies that would do better or worse than others thanks to the labor-market's transformation. But few have panned out well. The clearest winner: Recruit Holdings Co., an employment placement company that's handed investors a 61 percent total return in the past year, against 11 percent for the Topix Index.
Some strategy calls were upended by external shocks, and cyclical rotations by traders responding to macroeconomic trends have thrown off others, explained Shusuke Yamada, chief Japan equity and foreign-exchange strategist at Bank of America Merrill Lynch in Tokyo. But investors with a long-term perspective should still heed the potential impact of this lasting dynamic.
"This isn't going to end in the next two or three years," Yamada says of the demographic trends. "One of the reasons why capex is so strong in this year is that labor shortages have promoted productivity enhancements," he said, referring to capital spending. Companies are seeing that cheap staff are "no longer available and they're getting cost pressures," he said.
One that's invested in automation is Komatsu Ltd., Japan's biggest construction-equipment maker. To cope with a lack of skilled surveyors to map out building sites, the company turned to drones. For the past three years, the Tokyo-based company has deployed unmanned vehicles. In March it bought 1,000 more to build its fleet of aerial robots to hover over construction zones performing site assessments.
Komatsu was one of Bank of America's calls back in March 2017, along with industrial robot maker Fanuc Corp. Both trades worked well until January. But the U.S.-China trade war has intervened, hurting the outlook for the earnings of both companies and overwhelming the impact of the domestic labor-shortage theme. Komatsu is down 18 percent this year, while Fanuc has dropped 17 percent.
Still, Komatsu might have been even worse off without the investment. Those that lag behind are likely to be losing bets for investors, market players say.
"Inefficient companies in labor-intensive industries such as construction and land transportation will face difficulties if they don't introduce automation and robotics," said Naoki Kamiyama, chief strategist at Nikko Asset Management. "The losers are not an industry but at the corporate level."
Companies providing labor services, including childcare and continuing education, should be among the winners, alongside staffing services companies, he added.
Bank of America, Goldman and Morgan Stanley all picked a winner with Recruit last year.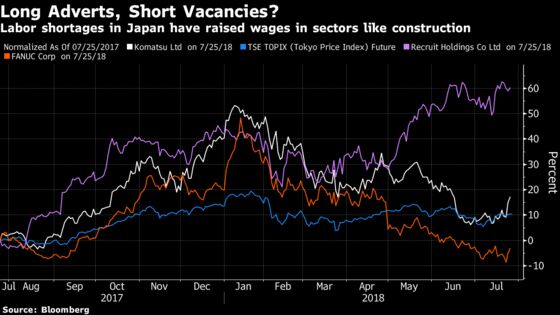 Following the advice of the investment banks yielded a mixed outcome for investors since the recommendations were made in 2017, according to an analysis by Bloomberg. Some 20 of the stock picks topped returns on the Topix index, and 23 underperformed the gauge over the past 12 months, the data show. Here's a table showing the winners and losers.
| | | |
| --- | --- | --- |
| Firm | No. of Outperformers | No. of Underperformers |
| Morgan Stanley | 4 | 13 |
| Bank of America  | 6 | 6 |
| Goldman Sachs  | 10 | 4 |
Cost pressures more broadly are set to be a theme investors need to keep in mind, according to Goldman.
"On top of a labor shortage you have input-price, commodity-price driven inflation, and the question becomes how well can a company pass on the cost to its final products," said Kazunori Tatebe, a portfolio strategist at Goldman in Tokyo. "There will be various winners and losers."
Rather than make specific bets on companies or sectors, another tactic to consider could be to go with market capitalization.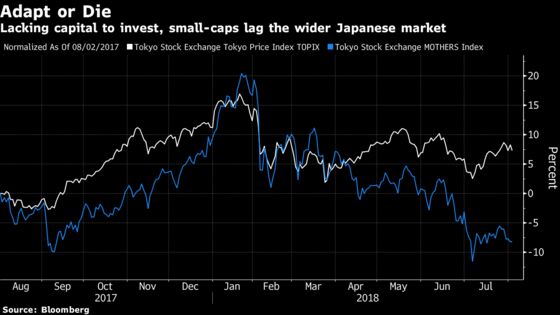 "For smaller firms in Japan, it's much more of a challenge because they tend to be less capital intensive," said Jonathan Garner, chief Asian and emerging markets equity strategist at Morgan Stanley in Hong Kong. "Larger firms can substitute capital for labor," or outsource work overseas, allowing them to keep costs down, he said.