Fiat Favors Car-Parts Spinoff Amid New Approaches
(Bloomberg) -- Fiat Chrysler Automobiles NV is for now sticking with plans to spin off its Magneti Marelli unit after fielding interest from potential buyers for the car-part business, which may be valued at as much as 6 billion euros ($7 billion).
The company stands by its announced intention to distribute new shares in Marelli to shareholders, a spokesman said Thursday in an emailed response to queries from Bloomberg News about renewed interest in the asset. The Italian-American automaker rejected an approach from an unnamed Asian parts supplier, a person familiar with the matter said.
Apollo Global Management and Bain Capital have also expressed interest, according to other people, who asked not to be identified discussing confidential information. The division could be valued as high as 6 billion euros in a sale, they said.
"As previously announced, Fiat Chrysler is pursuing a plan to separate the Magneti Marelli business," the automaker said in an email. "In the meantime, as the company has previously indicated, it will evaluate bona fide proposals for alternative transactions."
Apollo declined to comment. Bain didn't respond to requests for comment.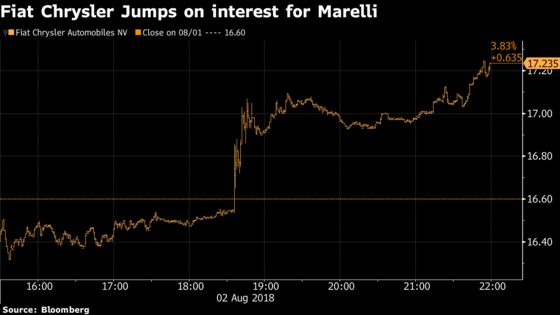 Fiat Chrysler reversed earlier losses in New York in Thursday and rose 3.9 percent to 17.24 euros. Gain continued in Milan trading on Friday The stock rose as much as 2.9 percent, the best performer in the STOXX 600 Automobiles & Parts index, and was up 1.8 percent at 9:30 a.m. in Milan, giving the company a market value of 23 billion euros.
The decision on Magneti Marelli will be one of the first major moves that Fiat Chrysler Chief Executive Officer Mike Manley makes after taking over the job on July 21 from Sergio Marchionne, who died last week.
While the latest approaches started before Marchionne checked in to a Zurich hospital at the end of June, selling Marelli would help the new leadership extract immediate value for shareholders, including the founding Agnelli family. Simplifying the company would also allow Manley to focus on building and selling cars, and make Fiat Chrysler less complex in the case of any eventual merger talks.
Fiat Chrysler announced in April that it intended to distribute Magneti Marelli to shareholders by the end of the year, after earlier rebuffing approaches from several suitors. Bloomberg News reported in March that Bain was among the parties expressing interest. Still, at the five-year strategy presentation in June, Marchionne said the carmaker remained open to the unit's sale if a buyer arrived with a big enough "check."
That gave suitors an opening to renew their approaches, the people said.
Auto suppliers are contending with a monumental shift toward electric and self-driving cars, which creates opportunities for parts of their portfolio while endangering other areas. Marelli has a mix of low-margin and premium product lines, and the differences are poised to widen amid this transformation.
The unit, founded in 1919, manufactures automotive lighting systems, powertrain components and engine-control units, along with electronics and suspension systems, shock absorbers and other components and modules. Marelli may boost revenue this year by about 5 percent to 8.9 billion euros, according to an Evercore ISI estimate from April. It'll earn a profit margin of about 10 percent in 2018, the analysts said.