Einhorn Reinsurer to Borrow Cash for Buybacks as Stock Falls
(Bloomberg) -- Greenlight Capital Re Ltd., the reinsurer where David Einhorn oversees investments, plans to borrow $100 million to buy back equity amid a stock slump that has reduced its market value by one third this year.
The company will offer convertible notes due 2023, according to a regulatory filing Thursday. Greenlight Capital Re said it plans to repurchase up to one million Class A shares. The stock slid 10 percent on the news, the most since November 2008.
Einhorn's hedge fund has suffered an almost 18 percent loss this year, results he said were "far worse than we could have imagined." The investment returns for Cayman Islands-based Greenlight Capital Re dropped more than 15 percent. Still, insurance underwriting during the second quarter showed signs of improvement.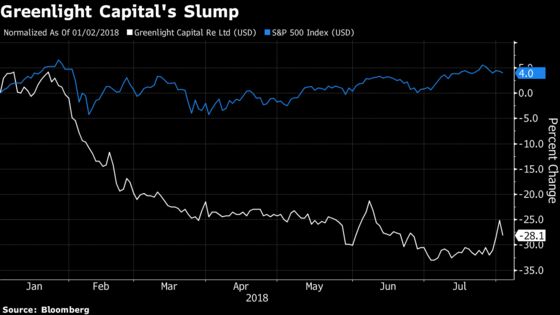 While Greenlight Capital Re shares surged after reporting results Wednesday, the stock tumbled on Thursday bringing the year-to-date loss to 32 percent.