Barclays `Running Free' for Now, But Has Yet to Outrun Activist
(Bloomberg) -- Chalk up a strong quarter for Jes Staley, but a murky outlook means he may not be out of the woods with Barclays Plc's activist investor.
Second-quarter trading revenue at the British bank's securities unit, the centerpiece of its chief executive officer's strategy, grew 11 percent, compared with the average 9.5 percent pace achieved by U.S. banks. That prompted Staley to say Barclays is "running free" after many quarters of being hobbled by legacy misconduct charges.
Still, Barclays warned of low market volatility in July, which could dampen investment-bank revenues, and "some margin pressure" at its U.K. businesses. Revenue at the lender has sputtered since Staley took the helm in 2015, adding to pressure from regulatory probes and activist investor Edward Bramson, who reportedly wants to alter the bank's plans.
The second-quarter results are "fine," but Barclays' guidance for its expected performance for the rest of the year is "very poor," said Ed Firth, an analyst in London with Keefe, Bruyette and Woods with a sell rating on its shares.
The British lender's shares slid 2.3 percent at 1:42 p.m. in London, reversing an early gain of as much as 3 percent. KBW's Firth also said Barclays's estimate of operating expenses for 2018 to be about 13.9 billion pounds ($18.1 billion) is higher than what most analysts expect.
The stock also tracked a broader drop by lenders, with the 42-member Bloomberg Europe Banks and Financial Services Index falling 1.7 percent.
Staley said in a Bloomberg TV interview that he has met with Bramson's firm once, and other executives have had "a number of conversations" with the investor, he said in the interview. However, "we still haven't got which strategy he may be suggesting." The bank's shareholders are "quite supportive" of Staley's own plan for Barclays, he added.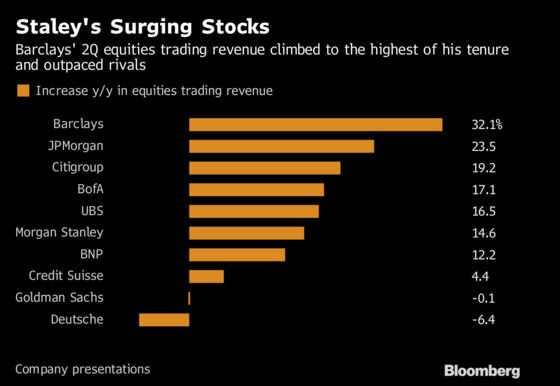 Staley increased spending and hiked risk-taking in a bid to turn around the struggling investment bank, and said the unit had "one of the best performances" of any of its peers in the U.S. or Europe. Sherborne, the firm controlled by Bramson, owns about 5 percent of the lender. The activist reportedly wants cuts at the investment bank, in contrast to the strategy outlined by Staley and his deputies.
Barclays said it remains on track to get its return on equity, a measure of profit, above 10 percent in 2020, and repeated its intention to pay a 6.5 pence dividend for 2018.
"I don't know about running free, but the results were quite solid compared to expectations," said Joseph Dickerson, an analyst in London with Jefferies Group LLC who has a buy rating on Barclays shares. "The company is executing. However, there is still some way to go to get full-year returns on tangible equity up to over 10 percent."
Revenue from trading equities surged 32 percent to 601 million pounds, the highest since Staley became CEO in 2015, and more than double both the average gain reported by five U.S. banks and what analysts had predicted. The result was driven in part by derivatives, complex products that derive their value from underlying shares, Barclays said.
The U.K. bank has hired a string of ex-Credit Suisse Group AG executives since last year to boost performance at the equities business, including global head Stephen Dainton. On a call with reporters, Staley also said the "equity financing" unit, which trades with hedge-fund and mutual-fund clients, had done "very well."
Other highlights from the second-quarter results:
Net operating income 5.29 billion pounds, above 4.77 billion-pound average estimate from analysts provided by the company
Revenue from fixed-income trading slid 2 percent to 736 million pounds, near analysts' estimates, compared with 6.7 percent gain reported by five U.S. banks
Barclays's revenue from advising on mergers and acquisitions and arranging stock and bond sales gained 4 percent to 704 million pounds, less than the U.S. average
The bank's common equity Tier 1 ratio, a ratio of financial strength, was 13 percent, down from 13.3 percent at the end of 2017
It was an eventful quarter for Staley. In May, U.K. regulators fined him more than 600,000 pounds and reprimanded him for his attempts to unmask a whistle-blower. Yet they stopped short of the more serious charge that he acted with a lack of integrity, which would likely have cost him his job. The bank began the process of seeking a replacement for Chairman John McFarlane, who hired the CEO and backed him throughout the debacle.