Australia Bank Woes Open Door to Funds to Boost Lending
(Bloomberg) -- Rising borrowing costs and regulatory pressures on Australian banks have opened a window of opportunity for the nation's money managers to ramp up their lending directly to companies.
IFM Investors Pty and Metrics Credit Partners are two funds trying to strike more bespoke lending deals with companies hunting for new sources of debt capital. This comes after the three-month bank-bill-swap rate jumped to a two-year high, which may put pressure on Australian banks to pass on higher funding expenses to their corporate customers.
"Stresses in the banking system, in the funding systems that may eventuate will create some opportunities for us to be an alternative source of finance," said Melbourne-based Scott Barker, IFM's regional head of Asia-Pacific, debt investments, who helps oversee the equivalent of $79 billion.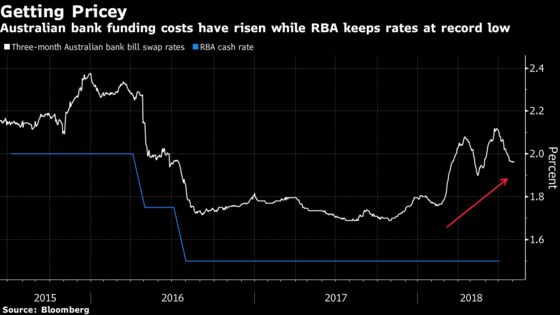 The jump in bank-bill-swap rates is enticing more asset managers to tap a market where corporate lending remains predominantly the domain of banks. Money managers and superannuation funds were lenders to companies including Brickworks Ltd. and Viva Energy REIT Ltd. this year.
The cost for Australian banks to borrow offshore has risen along with bank-bill-swap rates. Libor, a key dollar-financing indicator, has also spiked this year, prompting banks in the South-Pacific nation to seek more funding at home, helping push up domestic bond issuance.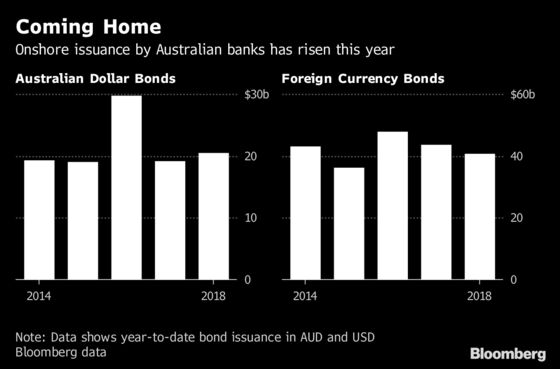 Metrics says it has been scooping up deals from a broad range of borrowers across the credit-quality spectrum in Australia. There will be opportunities to step in and provide debt financing for companies as Australia's banks are distracted by a government-appointed inquiry into the finance industry, said Andrew Lockhart, a managing partner at Metrics, which oversees the equivalent of $2.4 billion.
"Regulators are putting pressure on the banks," Sydney-based Lockhart said in an interview. "Given the increase in the cost of funding banks are exposed to, it makes it more marginal for them to continue lending to corporates. Unless the corporates do a lot of other business with banks that generate enough income, they just can't make enough return on equity."
Canada Pension Plan Investment Board announced this week its subsidiary CPPIB Credit Investments Inc. and Challenger Investment Partners will invest in mid-market real estate loans in Australia and New Zealand for a new fund.
While funds may not necessarily compete with traditional lenders on costs, they are providing loans with tenors longer than the typical three-to-five years that banks offer, or in some cases more flexible terms as well as higher leverage. Private-equity firms doing buyouts in Australia have turned to financing with looser conditions, typically used in the U.S. and Europe.
IFM, which had previously clinched private-debt deals with Australian companies, isn't interested in replacing banks' relationship with their customers, Barker said.
"We're not out there trying to sell a transactional banking product, we're not out there trying to sell a home-loan product," he said. "We just want to say here's $100 million, pay us the interest, pay us when it's due as principal, and continue talking to your bankers."