Starbucks Serves Alibaba a Double Espresso, to Go
But it's Alibaba's Ele.me food delivery business that needs the immediate caffeine hit. Starbucks would be looking for a nice, slow caramel macchiato.
Both companies are under the gun in China. Ele.me is facing stiff competition from Meituan Dianping, which is backed by Tencent Holdings Ltd. Starbucks has to contend with the rapid rise of local competitors, including a newly crowned unicorn,  Luckin Coffee.
Starbucks reported a same-store sales drop of 2 percent in China in the three months through July 1, admitting that results there were "disappointing." Delivery is a key plank of its China growth strategy, in addition to ramping up the pace of store openings, and it needs a local partner to do that. Ele.me is as good a choice as any.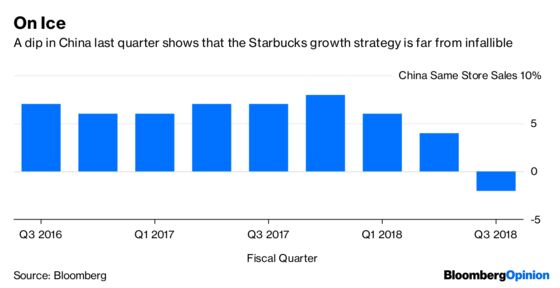 But it's Ele.me that has to put some space between itself and Meituan Dianping, especially as that firm – which gets 60 percent of its revenue from food-delivery commissions – could soon raise as much as $6 billion in a Hong Kong IPO. We've already seen how investors are willing and able to throw silly money around to chase all manner of online-to-offline businesses – deliveries, ride share, bike rental – and Meituan isn't even profitable.
Getting outside help from an iconic global name is exactly the kind of leg up Ele.me needs. It won't be enough to finish the competition, but a shot of caffeine will help it keep up the pace.
This column does not necessarily reflect the opinion of the editorial board or Bloomberg LP and its owners.
Tim Culpan is a Bloomberg Opinion columnist covering technology. He previously covered technology for Bloomberg News.