Tesla Slows Cash Burn as Musk's Model 3 Production Picks Up
(Bloomberg) -- Tesla Inc. burned through less cash than analysts expected last quarter and stood firm with Chief Executive Officer Elon Musk's projection that profit is around the corner after years of losses.
Free cash flow was negative $739 million for the three months ended in June, Musk wrote in a letter to shareholders Wednesday. Analysts were projecting Tesla would go through about $900 million during the period, after burning more than $1 billion in three of the previous four quarters. Its shares surged after the close of regular trading.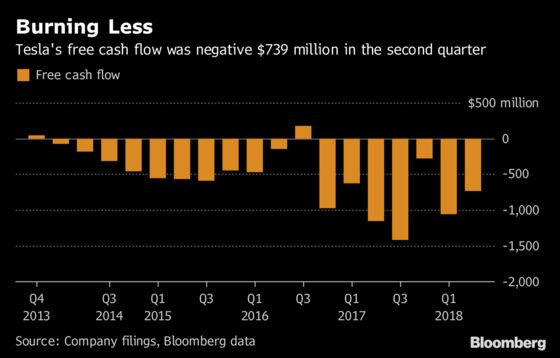 Musk, 47, has been adamant that Tesla won't need to raise more capital this year, an outlook Wall Street has doubted after the company repeatedly pushed back manufacturing targets for the Model 3. The sedan that was central to the company's mission since its founding in 2003 -- to bring electric vehicles to the masses -- has picked up the pace in recent months, with the carmaker expecting to build as many as 55,000 units this quarter.
"It took 15 years to execute on our initial goal to produce an affordable, long-range electric vehicle that can also be highly profitable," Musk and Chief Financial Officer Deepak Ahuja wrote in the letter. "In the second half of 2018, we expect, for the first time in our history, to become both sustainably profitable and cash flow positive."
Tesla stock climbed as much as 5.7 percent to $317.95 as of 5 p.m. in New York. The stock was down 3.4 percent through Wednesday's session.
Tesla ended June with about $2.2 billion in cash on its balance sheet, the least it's carried since the first quarter of 2016. But the progress the company made slowing how much it was burning through won plaudits even from skeptics.
"I was impressed with their negative free cash flow," said David Kudla, CEO of Mainstay Capital Management, which is betting against Tesla. "I'm more concerned about quality issues and service issues."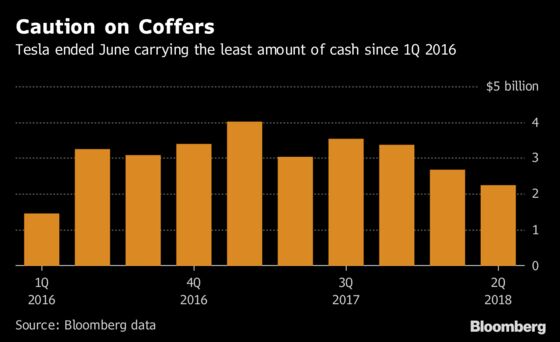 Tesla may also have more financing coming in soon, after all. It plans to tap the debt market in China to fund a new factory in Shanghai, the company's first outside of the U.S.
Bloomberg News reported earlier Wednesday that the company would look to China to at least partially fund the $5 billion cost, citing a person familiar with the plans, who asked not to be identified as the matter is private. While construction is expected to start in the next few quarters, Tesla's investment won't begin "in any significant way" until next year, according to the shareholder letter.
For almost a year, Tesla followers fixated on the company's target to make 5,000 Model 3s in a week. After a struggle Musk blamed in part on relying too much on automation, the carmaker put off capital expenditures toward doubling that rate until it was achieved.
Tesla pulled out all the stops to finally achieve this at the end of June, flying in a production line from Germany on a cargo plane, adopting an around-the-clock schedule and erecting a massive tent to house another assembly line in the parking lot of its California plant.
Now that the company finally hit the target, it's reviving a goal to make 10,000 a week sometime in 2019. A year ago, the goal was to get there in 2018.
"I'm super happy," said Ross Gerber, CEO of Gerber Kawasaki Wealth & Investment Management and one of Tesla's most outspoken bulls. "This is very solid progress and plenty of cash to keep the train going. Tesla is going to be an amazing company over the next five years. It's good to be looking at the other end of this nightmare production ramp."