Tesla Options Suggest Bearish Sentiment Growing Ahead of Results
(Bloomberg) -- Investors anxiously awaiting Tesla's second quarter results may have already shown their hand as the stock has dropped 20 percent since trading to a 2018 high on June 18. Over that same time frame the put-to-call ratio hit a near-term peak, fell and then rose again over the last three weeks.
The ratio can be an indicator of bearish bets relative to bullish ones, which has increased 26 percent since July 9, according to Bloomberg data.
Whether investors are taking an outright bearish view on Tesla's quarter or simply hedging an underlying stock position, one thing is certain: besides Tesla's financial results, Elon Musk's performance on this afternoon's conference call will be watched closely for signs of hostility.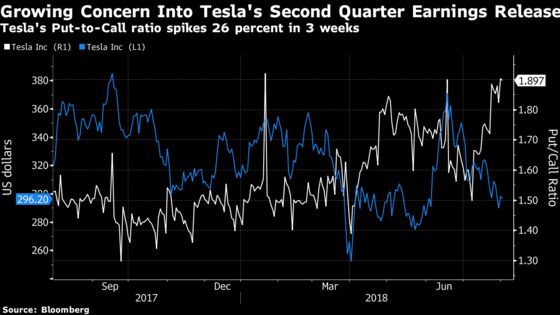 Options imply a one-day move of 9 percent, as defined by the near-term at-the-money straddle. The historical average move after earnings is 9.7 percent. The 7-percent rise in total put open interest since June 29, along with Tesla's implied volatility jumping to the ninety-ninth percentile, show that investors are positioning for further downside.