Ryanair's U.K. Pilots Make Move Toward Possible Strike
(Bloomberg) -- Ryanair Holdings Plc is starting to see the damage from the labor strife that's disrupted flights across Europe at the height of summer, just as the dispute threatens to extend to Britain, the carrier's biggest market.
Passenger growth in July fell to its slowest rate since the Dublin-based carrier agreed to recognize unions in December, as walkouts by pilots and flight attendants forced it to cancel hundreds of services. The numbers advanced 4 percent for the month compared with 11 percent the year before.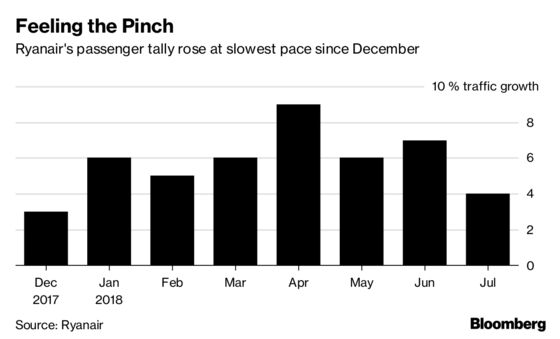 Ryanair published the figures Thursday as its U.K. pilots triggered a so-called failure-to-agree mechanism, indicating that contract talks have reached an impasse. The move limits the span of negotiations and may lead to a strike ballot, the union confirmed after Bloomberg reported the development earlier.
"We always aim to reach agreements with airlines without entering a formal dispute process or balloting for industrial action," Terry Brandon, national officer for the British Airline Pilots Association, said in an email, adding that talks are stalled on issues including pay and Ryanair's use of contractors.
A Ryanair spokeswoman said it would meet with Balpa again on Thursday to continue negotiations toward a collective labor agreement. The union's latest move caps negotiations at three sets of talks, after which the sides can agree to bring in a mediator, or a strike ballot can be held.
Shares of the discount giant were trading 4 percent lower at 13 pence as of 11:56 a.m. in Dublin, taking their decline this year to 14 percent. All told, the carrier canceled more than 1,000 flights last month, citing factors including adverse weather and air-traffic control disruption, as well as the strikes. It scrapped just 23 services a year earlier.
The U.K. accounts for about one-quarter of Ryanair's pilots and planes and is home to the airline's biggest base at London Stansted, magnifying the impact of any disruption to flights there.
Britain was the first market in which Ryanair struck a union-recognition deal amid a staffing crunch at the end of last year, and work on new contract terms had appeared to be progressing more smoothly than elsewhere. Strikes by pilots and cabin crew in Ireland, Spain, Portugal, Italy and Belgium caused more than 600 flight cancellations last week.
While Balpa's procedures means U.K. wrangling may drag on, Ryanair faces more imminent disruption, with staff in Sweden and Belgium giving notification that they plan to strike on Friday next week and the carrier saying it expects groups in Germany and the Netherlands to walk out on the same day.
"We have written to each of these pilot unions in recent days and invited them to meet with us in the coming days to make further progress," Ryanair said in an earlier statement. The carrier says it has asked to be given seven days' notice before any industrial action to minimize passenger disruption.