Russia Rolls Back Most of Oil Cuts as Supply Risks Worsen
(Bloomberg) -- Russia boosted oil production to levels not seen since it joined OPEC in a coordinated output cut, helping the group offset supply disruptions elsewhere.
The world's biggest energy exporter raised production last month to 11.215 million barrels a day, a jump of 148,000 barrels from a month earlier and just below the post-Soviet record set in October 2016, according to government data emailed Thursday. The country is currently forecasting output will remain at these levels in the next five months, a government official said, asking not to be named as the information isn't public yet.
Since Russia joined the Organization of Petroleum Exporting Countries in reducing output, crude prices have risen to three-year highs as the glutted market rebalanced. The cartel and its allies -- known as OPEC+ -- decided in June to increase production in response to consumers' concerns over rising prices and supply disruptions, so traders and investors have been watching Russia's oil data closely.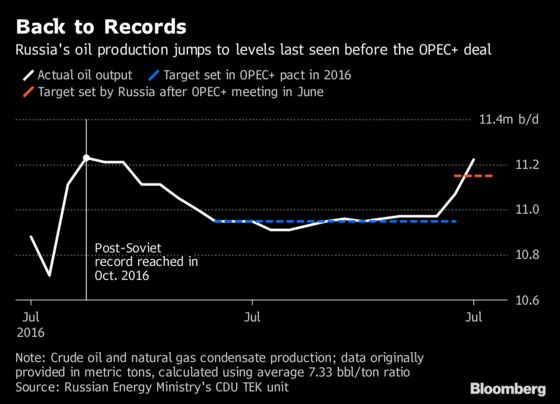 Russia's output last month was just 40,540 barrels a day lower than in October 2016, Energy Minister Alexander Novak said in a statement Wednesday. The country has been pumping more following "joint efforts of OPEC and non-OPEC countries aimed at stabilizing the oil market," he said.
The nation's production may remain around the 11.2 million barrels a day level for the remainder of the year, the government official said, citing the oil ministry's most recent calculations. Supply could even increase if there are further agreements with OPEC+ to change current output policy and boost supplies, though there haven't been any detailed talks on this yet, the person said.
OPEC+ may discuss whether a bigger production increase is needed when they meet in September, Novak said last month.
Russia's key partner in the OPEC+ group, Saudi Arabia, in July was also close to an all-time peak reached in 2016, boosting its oil production by some 230,000 barrels a day to 10.65 million. OPEC's overall output jumped by 300,000 barrels a day last month, according to a Bloomberg survey, as the cartel offset losses from an economic collapse in Venezuela, political clashes in Libya and an expectation that Iranian exports will drop due to U.S. sanctions.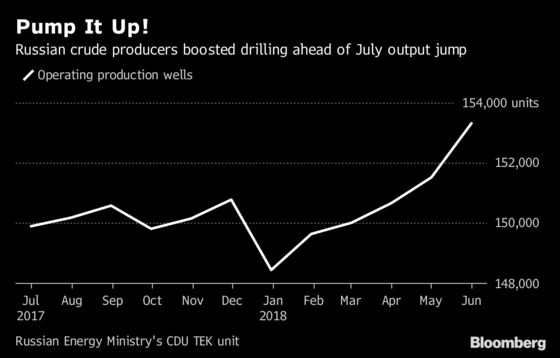 Back in 2016, Russia pledged to cut its output by 300,000 barrels per day in the OPEC+ deal. In June, Novak said that the group's new pact allows it to roll back about 200,000 barrels, but government data show the nation had brought 268,000 barrels back by the end of last month.
Russia began ramping up output in June, led by its biggest producer -- state-run Rosneft PJSC. The number of working oil wells in the country increased that month by more than 2 percent from a year before.
While both Russia and Saudi Arabia have said they are lifting production to make up for countries unable to do so, some OPEC+ members, notably Iran, argue that they're violating the group's agreements and individual country quotas.