PG&E Slumps on Prospect of Wildfire-Induced Debt Restructure
(Bloomberg) -- PG&E Corp., the San Francisco-based utility facing as much as $17.3 billion in wildfire-related liabilities, fell following a report that it hired Weil Gotshal & Manges LLP to explore debt restructuring options.
One option under consideration: breaking up PG&E, with one unit that would file for bankruptcy, according to a report by Reuters, citing unidentified people familiar with the matter. PG&E declined to comment on the matter. The company closed down 1.3 percent Wednesday.
"As a matter of general practice, we do not comment on market rumors," PG&E spokesman Keith Stephens said in an emailed statement.
The report comes as PG&E contends with the overhang of potentially footing the bill for a series of wildfires in Northern California last year. While the state is evaluating whether to change liability policies, a proposal from the governor wouldn't address costs for the 2017 blazes. The state's biggest utility has said that won't go far enough.
"PG&E is threatening bankruptcy as something they may ultimately take to force the politicians to come up with a solution," Kit Konolige, a New York-based Bloomberg Intelligence analyst, said in an interview Wednesday. "This is part of PG&E's public moves to make it clear that this is a dramatic problem for the company that needs a solution right away."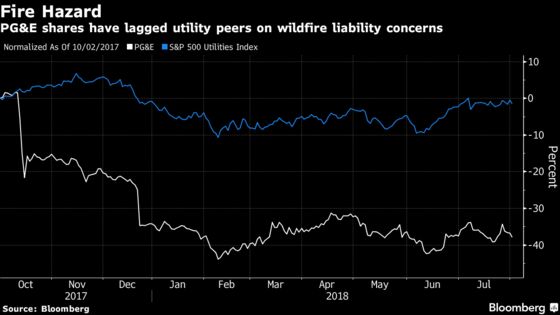 The company may get significant challenges to a voluntary bankruptcy filing, and will need to "show a good faith restructuring purpose," Thomas Claps, a New York-based analyst at Susquehanna Financial Group, wrote in a research note Wednesday.
"In the past, courts have dismissed a company's bankruptcy petition because 'the mere possibility of a future need to file, without more, does not establish that a petition was filed in good faith,'" Claps said.
Damage from the swarm of Northern California fires in 2017 has forced PG&E to confront its most significant challenge since filing for bankruptcy in 2001, incurring $9 billion in debt from buying power for more than it could charge customers. Investigators found that PG&E equipment ignited 16 of last year's fires, and investors are still waiting for a report from the California Department of Forestry & Fire Protection on the company's role in the Tubbs blaze -- the deadliest of them.
The utility is seeking permanent reforms to the so-called inverse-condemnation provision, which holds utilities strictly liable for fire damages regardless of negligence. California Governor Jerry Brown last week proposed changing that provision: a court would be tasked with considering whether a utility acted "reasonably" when deciding whether a utility should end up on the hook for fire damages. Brown and legislative leaders have formed a committee that's considering possible changes the utility wildfire liability regulations.
On a call with analysts last week, PG&E Chief Executive Officer Geisha Williams called Brown's proposal "insufficient." PG&E already has taken a fire-related $2.5 billion pretax quarterly charge.