Pandora Praised By Analysts in the Words of Cardi B: 'I Like It'
(Bloomberg) -- Pandora's second-quarter earnings were better than expected, and bulls are excited by improved "engagement" on the music streaming platform. Even with newcomers such as Spotify, Tidal, and Apple Music, analysts see increased opportunity for Pandora to expand as music subscription appears to still be in its early innings.
Pandora, under new management, has taken a series of steps to improve the company's fundamentals to broaden the appeal of its subscription business and reduce churn, writes RBC Capital analyst Mark Mahaney. The stock is up as much as 23 percent Wednesday, the most since May 4, helped by an upgrade at RBC.
As for the company's second-quarter results: "I like it," writes Raymond James analyst Justin Patterson, lifting from hip-hop artist Cardi B.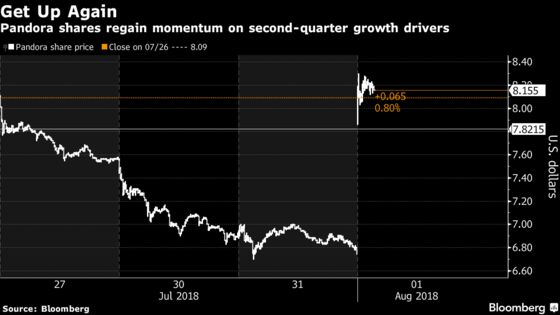 Here's what Wall Street is saying about the results:
RBC Capital Markets, Mark Mahaney
"Execution is improving," Mahaney writes in a note, adding that "valuation is undemanding for a stock that should be able to grow" at an approximately 10 percent compound revenue annual growth rate over the next three years.
"Our recent survey work shows a stable and significant leadership position for Pandora in the U.S. ad-supported streaming segment."
Mahaney believes concerns about Pandora will persist long-term due to a declining listener base, as well as Spotify remaining a brand favorite and streaming leader.
Outperform from sector perform, price target $10 from $6
Raymond James, Justin Patterson
For Pandora, Patterson says "key metrics and qualitative commentary continue to support our thesis" that execution is improving, users and engagement can stabilize and grow again, and advertising technology initiatives are introducing revenue and cost-saving opportunities.
"To quote Cardi B: I like it," Patterson writes in a note touting Pandora's solid subscriptions and improving ad hours.
Strong buy, price target $11
SunTrust Robinson, Matthew Thornton
Thornton says ad-supported listener engagement and listener hours were both about two percent better than the firm modeled, despite listeners being one percent below, which drove ad revenue above its forecast.
Overall, SunTrust believes the second quarter was good with upside on engagement and subscriptions, though partly offset by higher marketing spending.
Barrington Research, James Goss
"The rollout of ad supported premium access listening provides high quality ad impressions the company can sell," according to Goss. "So far, about 22 million listeners have engaged with the functionality at attractive younger demographics."
"The acquisition of AdsWizz also can add incremental advertising capabilities for the company and helps to create a large base of inventory to attract advertisers to the digital audio ecosystem."
Outperform from market perform, PT $11
Pandora's transformative growth continues with the integration of AdsWizz, Yong writes, in addition to service launches like the family plan and partnerships with Snap Inc., Cheddar Inc. and telecom providers such as AT&T Inc.
Second quarter "showed continued progress from the playbook management carved out," such as ad-tech investments, increased engagement and cost cuts.
"Encouraged to see signs of progress," though neutral stance hinges on its ability to grow in a competitive landscape.
Neutral, PT $8.50 from $7