Next Warns That Summer Heat's Benefit May Be Short-Lived
(Bloomberg) -- Next Plc shares fell after the U.K. apparel chain warned that a boost from shoppers splashing out on hot-weather wardrobes won't last.
Full-price sales under the Next brand gained 2.8 percent in the 12 weeks through July 28, the Leicester, England-based retailer said Wednesday, just below analyst estimates. The shares fell as much as 6.4 percent in early London trading, the most since November.
Given that sales were boosted by the U.K.'s extended period of warm weather, "they have not exactly smashed things out of the park," independent analyst Nick Bubb said in a note.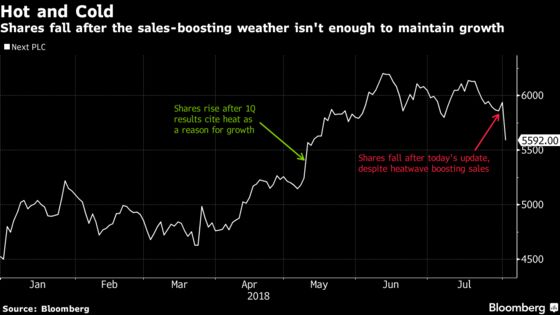 Next said consumers pulled forward purchases from August because of the heatwave. While some analysts had expected the company to lift its forecast, the retailer said it's maintaining its guidance for 2.2 percent full-price sales growth in the year through January 2019.
Disappointing sales at Next, one of the sector's most reliable performers, will fuel investor concerns over the prospects for the U.K.'s struggling retailers. Troubled department-store chains Debenhams Plc and House of Fraser Ltd. are paring store space as more consumers shop from their living rooms or shift spending to entertainment, while electronics chain Maplin and the U.K. arm of Toys "R" Us Inc. have collapsed.
"Next says it'd rather wait and see how the remainder of the summer goes before moving guidance," Hargreaves Lansdown analyst George Salmon said in a note. "This seems fair enough, but it will have left a few wondering: If the best summer in years isn't enough to upgrade profits, then what is?"
Next has been ahead of some of its rivals in adapting to the rise of e-commerce, with sales in the company's online business rising 12.5 percent in the second quarter, ahead of expectations but below the rate in the first three months of the year.
While the heat wave spurred hard-up British consumers to buy more summer clothes, such products often have lower margins than jackets and coats. And trends can be hard to predict, Chief Executive Officer Simon Wolfson said in an interview.
"When the sun came out, people bought more T-shirts. It's really that simple," he said while warning of the "volatility of demand" related to weather patterns.