Mercedes-Benz 23% Sales Plunge in July Puts U.S. Crown at Risk
(Bloomberg) -- Sales for Mercedes-Benz, the highest-volume U.S. luxury brand for the past two years, plunged in July as inventory shortfalls and a technical glitch handicapped dealers.
Deliveries tumbled 23 percent last month to 20,034, the steepest drop and lowest monthly total so far this year for the Daimler AG brand, shrinking its lead over BMW AG's namesake line to about 3,500 vehicles.
A "temporary dealer inventory shortfall" related to changing over to 2019 models and an unrelated "mainframe outage" gummed up Mercedes dealer operations in the busiest week of the month. Resolution of the technical glitch is "nearing completion," the company said in a statement.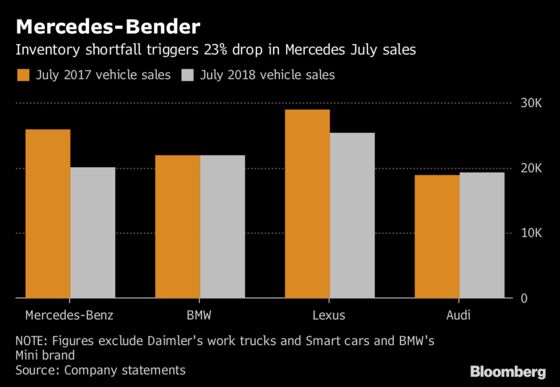 "We are working closely with our customers and dealers to help alleviate any inconvenience resulting from the model year 2019 delays," Dietmar Exler, the head of U.S. operations for Mercedes, said in the statement. "While we expect to replenish our inventory levels in the fall, these developments will likely have a negative impact on sales in the coming months."
BMW didn't fully capitalize on its rival's headaches. The German automaker increased sales by just 17 vehicles, as a rally in X3 and X4 compact crossover deliveries was nearly wiped out by declines of 10 percent or more for the X5 and most of its luxury sedans, including the 5 Series.
Toyota Motor Corp.'s Lexus brand also posted its steepest drop of 2018: Sales tumbled 12 percent for the fifth straight month of declines. A 28 percent collapse in sedan deliveries overwhelmed gains with the RX and GX SUVs. Still, Lexus was the top-selling brand in July, repeating its monthly standing from a year earlier.
Volkswagen AG's Audi managed the biggest gain of the four major U.S. luxury brands last month. Sales increased 2.1 percent in July to 19,221, propelled by the A5 sedan and the Q5 SUV.