Hedge Fund Manager Plotkin Takes a Hit as Nintendo Stock Surges
(Bloomberg) -- U.S. hedge fund manager Gabriel Plotkin made a risky bet by increasing his short position in Nintendo Co. just ahead of the company's earnings report on Tuesday. He got it wrong, at least for the day.
The Japanese game maker reported earnings that beat estimates and sent shares climbing as much as 7 percent in Tokyo trading. Plotkin's hedge fund Melvin Capital Management, based in New York, was short about $400 million worth of Nintendo's stock, according to the latest regulatory filing on Tuesday. Trading volumes ahead of earnings indicate it's unlikely he closed the position, resulting in paper losses of as much as $27 million from Wednesday's share surge.
The quarterly beat is the latest chapter in the battle between Nintendo and short sellers like Plotkin, which has gripped executives, investors and analysts. Considered one of Japan's hottest stocks as recently as May, shares then fell as much as 27 percent as hedge funds began betting against it. Traders and analysts said they'll be closely watching daily regulatory filings in Japan to gauge if the latest results were enough of a trigger to make short-sellers cover their positions.
Short-selling interest was at 2.5 percent of outstanding shares as July 31, according to data from Markit Securities. That implies Plotkin's position accounted for about a third of all shorts on Nintendo.
Plotkin is still likely in-the-money on his short bet. The average price of his position is probably around 41,000 yen to 42,000 yen, according to regulatory disclosures and Bloomberg calculations that assume he began short selling in early May. That's still higher than Wednesday's intraday price of 39,330 yen, despite the day's rally.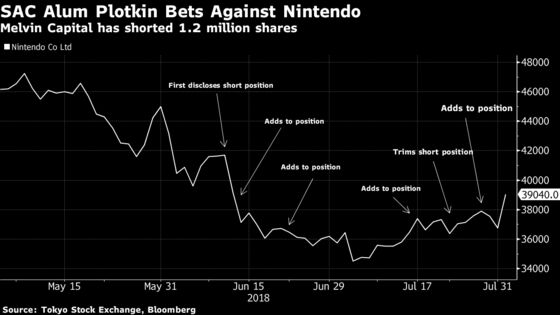 Any potential losses from the trade are also likely a small dent for Plotkin's hedge fund, which oversees about $7 billion and takes long and short positions in consumer stocks. But losses could be amplified if he has held onto to his bullish bet on Electronics Arts Inc., which has tumbled after reporting poor earnings last week. It was Melvin Capital's second largest long position as of March 31, based on the latest U.S. regulatory filings.
Plotkin and Melvin Capital's Chief Operating Officer David Kurd did not respond to requests for comment.
Analysts have said shorting Nintendo and buying U.S.-based game companies like Electronic Arts and Activision Blizzard Inc. has been a popular pair trade recently among hedge funds. Microtransactions, esports and releasing games across multiple platforms including mobile has benefited U.S publishers over the past year, lifting shares to all-time highs. Nintendo has been slower in embracing those trends, raising questions if it could fall behind in the industry.